Just witnessed your best live gig?.. send us a review!
DOWNLOAD FESTIVAL, June 12-14 2009
Betsy Green flew the flag (or banner) for Get Ready to ROCK! at Download. She reports the highlights of one of the rock calendar's premier events...and the not so good bits...aka "the jobsworths"...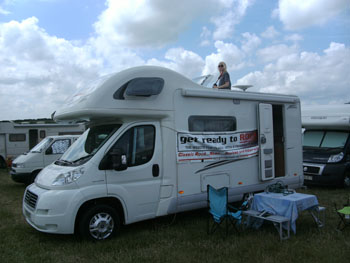 Download is the UK's ultimate festival for heavy rock and metal providing three days of pure fist pumping, head banging action coveted by rock bands and fans from all over the world. The line-up for the festival this year was undeniably better than it has been for a while; it resembles more what 'Monsters of Rock' use to be with bands such as ZZ Top, Faith No More, Whitesnake, and Def Leppard, and not forgetting the return of the metal underdogs Anvil.

DAY 1

Looking at the line-up for the festival this year the climax was definitely the Sunday. Friday was not half bad though. Glam rock founders Motley Crue arrived on the second stage at 20:35 and started off their set with song 'Kick-start my heart' and later performed well known 'Girls, girls, girls'.
Unfortunately a bit of the energy from this band was lost; the screens were not working so it was a tad difficult to see the glam rock legends. All the same they pulled off a good show, not the best that they could have, probably because these guys should be a headline band.
While watching the dodgers of death 'Motley Crue' something emerged to excite things further; Hardcore Superstar were having a stroll through the crowds going completely unrecognised, so I managed to get a picture with lead singer Jocke, who was more than happy to pose with us and was overall a very pleasant man.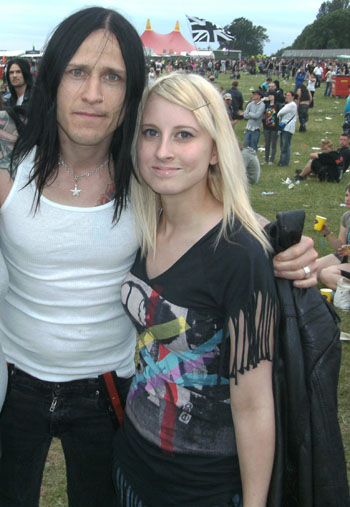 Korn a metal band with a very distinctive sound had a difficult spot being wedged in between 'Faith No More' and 'Limp Bizkit', there was a danger of fans topping up on their beer instead of watching Korn. Thankfully, this was not the case. They performed a set of their greatest hits and were very much adored by the crowd.

Faith No More headlined the main stage on the first day. They'd split up for around eleven years reuniting in February 2009. After talking to many members of the crowd and many campers there didn't really seem to be that much excitement generated around this band.
They performed songs such as: 'We Care A Lot' and 'Ashes To Ashes' and also a rather disturbing version of Lady Gaga's 'Poker Face'. Really there is just no need, do they not realize people come to Donington to get a break from s--t like that. Apart from that minor blip they got the crowd going and gave a rather enjoyable performance. I think it is safe to say you either have 'Faith' or you don't, you either love them or hate them.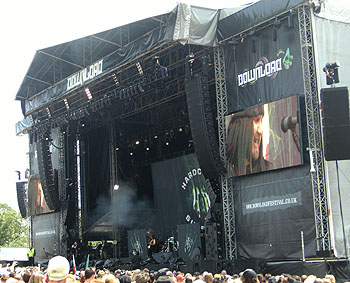 I think this is a good opportunity to explain something very evident at this festival; Political correctness. You'd expect that heavy rock festivals wouldn't be so much affected by the insane wave of political correctness enveloping the country. Unfortunately they are now more than ever.
Gone are the days of Woodstock for example, where you'd see a group of hippies stoned with their friends watching a good band with a bottle of their favourite beer they had brought in.
Now the security is tighter than a camel's arse in a sandstorm. The dumb, cocky and rude stewards seem to assume they are all doormen; they do extensive searches of everyone upon entry. They block people from crossing a simple road when one car is coming, which is quite frankly insulting as they assume people don't have the intelligence to cross a road without getting run over and killed.
They actually rummage through your bags touching the content which is not allowed! And another killer: When the motorhome camp were leaving after Def Leppard on the final night the stewards blocked them in and wouldn't let them leave, so a camper had to call the police so they could be released and the stewards were told they cannot imprison people.

DAY 2

Day two and things start to get very exciting at Download. Heavy rock legends Thunder graced the Tuborg stage at 18.40. Singer Danny Bowes' vocals were extremely powerful and the Tuborg tent was overflowing with fans.
They performed the remarkable 'Love Walked In'. They had pure skill and their energy and passion was definitely shared with their adoring fans. They are following up the download performance with a farewell tour. Sad news for fans as these are such a brilliant band, all I can recommend is: if you want to see them again, give them an email and let's not let this be Thunders farewell.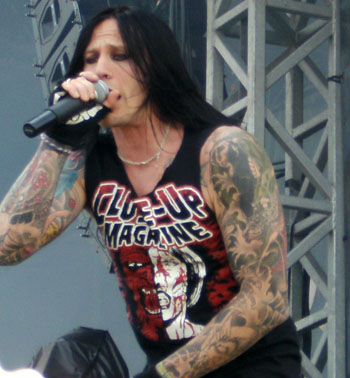 Swedish sleaze metal rockers Hardcore Superstar played the second stage at 12.40. Their singer Jocke provides screaming yet melodic vocals accompanied by a glam rock/ metal guitar sound.
Their sound is very original, they have brilliant energy and these guys should be the next big thing. If you haven't heard any of their songs have a look on YouTube and I think you'll be pleasantly surprised. They were singing songs from new album 'Beg for it' but also included the well known hits 'We don't celebrate Sundays' and 'Bag on your head' and the crowd loved it.

OK there were some pretty big acts on the second day of Download, but, I thought GRTR! readers would appreciate in sharing in the experience of Anvil.
The majority of you will have heard of Anvil and I went along to see the Canadian demi-gods of metal after watching the extremely entertaining 'Story of Anvil'.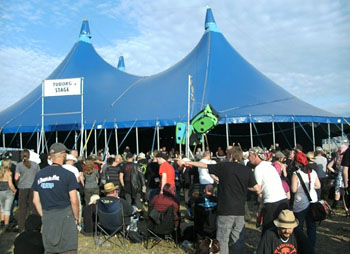 They were unfortunately playing the Tuborg stage which was too small for a band of such intensity and passion. Each and every song Anvil played was accompanied by an amusing story about its creation. They were full to the brim of energy and the raw power of heavy metal oozed from their pores.
The band seemed tighter than ever. Lips and Rob are the best example of never giving up and if you have enough self-belief and drive you really can achieve anything. Their love and dedication to metal is finally being appreciated and recognised as they embark on a supportive tour with AC/DC. Only possible criticism: the absence of the dildo.

The Prodigy arrived on the second stage at 20.35. As there was speculation about a band of this sort headlining at a rock/metal festival they were clearly wanted and were definitely worshipped.
The size of the crowd kept on growing for this band. The bottle fights began before they even hit the stage. When The Prodigy finally arrived the fans were so excited it was probably a record for the amount of breasts to be shown on the big screens. The band were insane, they were fast, furious and brilliant. The crowd definitely felt the intensity of this band as one by one people exited The Prodigy mosh pit with cuts and bruises and blood oozing from their war wounds. Their songs included hits such as 'Firestarter' and 'Smack my bitch up'.

DAY 3

Day three at Download Festival arrived with some of rocks biggest legends: Def Leppard, Whitesnake and ZZ Top.
Before talking about the big guns I feel it crucial and just to mention here The 69 Eyes. Inspired by 'The Sisters of Mercy' and all the way from Finland these self- proclaimed 'Helsinki Vampires' were absolutely fantastic bringing to download their touch of glam metal. Although they were sadly let down by their road crew's inability to fix up their equipment and lost fifteen minutes of their set they definitely redeemed themselves.

American legends of rock ZZ Top had the third slot on the main stage. They have longer beards than Santa Claus and have been rocking for around forty years. They achieve a coolness that no English band could achieve. They still sport the exhaust microphone stands and manage to synchronise not only their (similar to The Shadows) dance moves but their guitar playing too.
They are absolute masters live and definitely something to see before you die. They performed 'Gimme All Your Lovin' and a string of their familiar hits. No small talk, no cheesy lines, just ZZ Top: three men completely ruling the stage doing what they do best.

More orange than a factory of tango and more groomed than Paris Hilton's dog, Lord Coverdale blessed the stage with Whitesnake. Although Coverdale definitely has a personality and a stage presence his voice is definitely not what it used to be. Coverdale seemed to be having an absolute ball. Everybody clearly enjoyed mega hit 'Here I Go Again'. They proved they can still hold their own and still entertain their fans.

Def Leppard's last appearance at Donington was twenty three years ago. If for some obscure reason anyone had been slightly bored up until this band's performance ( highly unlikely) Def Leppard put on such a good set that even a puritan nun would have been so excited she would have let her convent down.
I cannot possibly do this band justice with a few words on a page, they have so many brilliant songs, and so many good bands on the same day before them, it would have been easy to have not expected too much, but they were that absolute icing on the cake to a perfect festival.
They too played a compilation of their best known hits and proved themselves one million times over to be the headlining act of such a tremendous day.
After such an astounding weekend it will be near impossible to top next year.

"If I have to give out any more of these damn things I'll throw myself into The Prodigy's mosh pit..."

Review and photos by Betsy Green
---