Just witnessed your best live gig?.. send us a review!
DON AIREY
Camden Underworld, London
14 January 2009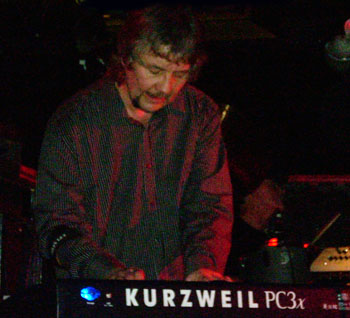 Now this is a gig most rock fans would jump at - and sadly the venue was only half full, as it hadn't been particularly well promoted. But it's always a pleasure to see Don play (having met Neil Murray in a nearby record ship prior to the gig).
Don is a very versatile rock pianist, who has played with just about everyone. From Cozy Powell, Colosseum II, Gary Moore and Black Sabbath in the 70s, he went on to play with Rainbow, Ozzy, Gary Moore and Cozy (again), Judas Priest, Glenn Tipton, Thin Lizzy, Whitesnake, UFO, Company Of Snakes and even Katrina And The Waves! Here, with current band Deep Purple taking a break, Don has undertaken a small tour to promote is recent (and second) solo album 'A Light In The Sky'.

No support act, and Don hit the stage at about 9pm, to a backing tape of Romeo & Juliet. Opening track "Spotlight Kid" many will remember and love, and while guitarist Rob Harris (Jamiroquai) did a fine job, the song (and the gig) was led by Don, whose keyboards also took over the main guitar solo.
Don thrashed and banged his keyboards with aplomb, the band providing some decent hard rock support. I forget the vocalist's name, but bassist was Lawrence Cottle and drummer Clive Bunker (Jethro Tull, Uli Jon Roth).

Next up was "Bad Girl", "A Light In The Sky" and "Plae Blue Dot"; "Shooting Star", "Endless Night" and "Rockin' Chair" went down well too. Plenty of guitar and keyboard work for the crowd to enjoy. So plenty from the new solo album; sadly the first outing K2 very under represented.

A few of these songs were in medley form, that did at one point move towards the jazz fusion of Colosseum II.

"All Night Long" got a cheer and a singalong, as did "Lost In Hollywood" and "Since You Been Gone". "Black Night" started a medley that finished with an excerpt from "A Light In The Black".

When the band returned for the second encore, still in good spirits (Don didn't stop smiling all night), they took suggestions from the crowd and finished with "Gimme Some Loving".

Don set out to entertain and did a very fine job.

Review by Joe Geesin

---
| | |
| --- | --- |
| | Print this page in printer-friendly format |
| | Tell a friend about this page |