DOLORES O'RIORDAN No Baggage Cooking Vinyl (2009)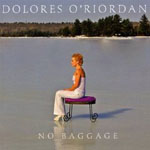 This is brave attempt by Delores to resurrect her post Cramberries career. Her only output since the band split in 2003 has been her debut solo album Are You Listening? released in 2007 which charted highest in Italy of all places.
Certainly on No Baggage she demonstrates that her vocals are as strong as ever. Close your eyes and the impeccable Irish tones could so easily be Sinead O'Connor. That's not a criticism, for Sinead is another great vocalist who has lost her commercial way (although she never wore the pop crown terribly comfortably).
But the problem with No Baggage, is that it's all a bit 'safe'. A bit 'Mumsy'. A bit 'Radio 2'. Nothing wrong with that of course - we're all getting older, most of us are parents, and we all have our Radio 2 moments. But No Baggage is a bit Swaine & Jolley, if you know what I mean - the whole album having been given a programmed gloss that blighted much of Alison Moyet's solo output.
That approach has the consequence of removing any hint of edginess or risk with the unfortunate result that one track sound pretty much like the next, and the next , and the next...
Which is a shame, because the vocals are good, even great, and there's some pretty good songs - the opener Switch Off The Moment is excellent, as is It's You. The lead single The Journey has a distinct Sinead O'C feel, and will no doubt generate airplay and a minor sales flurry. And Throw Your Arms Around Me is another potential, but as a whole it's a bit of a blur, and to my mind that's a missed opportunity.
***
Review by Pete Whalley
---
| | |
| --- | --- |
| | Print this page in printer-friendly format |
| | Tell a friend about this page |