DIRTY STRANGERS West 12 To Wittering (Another West Side Story) Track Record (2009)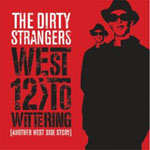 The Dirty Strangers are fronted by Alan Clayton - a man who not only convinced Rolling Stones' Ronnie Wood and Keith Richards to appear on the band's debut album, but maintained a friendship with them that has enabled him to enter their inner circle. Hence, having been a member of the Stones' entourage on the band's recent Bigger Bang tour, he has got Ronnie and Keith involved again. Ronnie plays guitar on a couple of tracks- most notably, bringing some Stones swagger to 'South of The River', whilst Richards not only plays piano on 5 tracks, but also co-wrote the tracks 'Bad Girls (You're Going Nowhere)' and 'Real Botticelli'.
But what does the album sound like? Well, take a healthy dose of Stones infused swagger, add some Clash style elements (courtesy of vocalist Clayton), stir in some old style R&B elements and cook slowly over 20 odd years- simple. The band isn't shy about its Shepherds Bush roots (and so they shouldn't be - it is the home of the country's finest football team, after all!!), and the songs have an element of that about them.
The album was recorded at Joe Browns studio - he also makes an appearance on the banjo on 'All Away'. The highlights on this 13-track affair include, obviously, all those songs already mentioned, along-side the Gene Vincent classic 'Ain't That Too Much', 'Survival Dance', 'Don't Come Easy' and 'Nowhere Maybe'
The band launched the album on St George's Day at Giglik, a converted Victorian lavatory in Shepherds Bush- and the one where Steptoe actor Wilfred Bramble was arrested, and to quote his own comedy, for being 'a dirty old man'. The band treated the assembled crowd to tracks old and new and everyone left knowing they had witnessed some of West 12's modern day finest.
****
Review by Nikk Gunns
---
| | |
| --- | --- |
| | Print this page in printer-friendly format |
| | Tell a friend about this page |