DIAMOND HEAD The MCA Years Universal 3-CD Box (2009)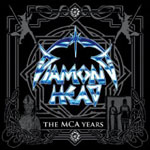 This NWoBHM band should have been so much bigger. Really huge. But sadly not everything goes to plan. Even Lars Ulrich was a fan, and stayed with the band before going to America and forming Metallica, later covering 'Am I Evil'.
After the bandís debut, they moved to MCA and recorded 'Living On Borrowed Time', which is the first CD here. With its fantastic sleeve (a Rodney Matthews classic) and melodic hard rock/metal sound (midway between the heavy end of Magnum and Saxon/Priest/Maiden), it should have shot the band into orbit. The pounding rhythms and excellent guitar work all made for a fantastic slab of superb classic British metal. This was all facets of the New Wave of British Heavy Metal at their finest.
Many will recognise 'Am I Evil', itís demonic intro nodding to Mars The Bringer Of War, and thereís the Sabbath influence too. The album is bolstered by 3 single tracks and 4 live BBC sessions.
The second disc is the 1983 album Centerbury which, while still a good outing, veered too far from Living On Borrowed Time and alienated many fans. On one hand itís quite commercial, more keyboards, more melodic, while elsewhere itís quite progressive too. A Borrowed Time Pt 2 it was not, which could have partly led to the bandís downfall. Well worth checking out all the same. A single track and 3 previously unreleased demos bolster this album.
The final disc is a collection of live material, including the 6 track set from Reading 1982 and another 5 track live BBC session. The band were really good on stage and fans will love this material.
An excellent box set, and a good intro to the band as well. NWoBHM fans will love this.
****½
Review by Joe Geesin
---