Just witnessed your best live gig?.. send us a review!
DEEP PURPLE
Hammersmith Apollo, London 15 November 2009
Photos by Noel Buckley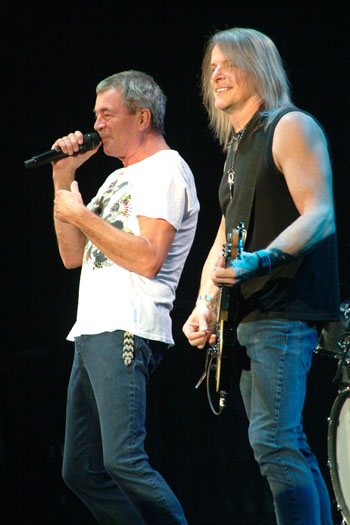 It's amazing to think that it is now 25 years since Deep Purple reformed and over 40 since their original formation. Since that time many band members have come and gone with vocalist Ian Gillan leaving only to come back and the man in black disappearing with his minstrel flute and Jon Lord retiring, handling over the ivories to Don Airey. Confused? If so, then there is no need to read on.
It is fair to say that in 2009 Ian Gillan hasn't got the scream he had as a younger man hence we don't get 'Child In Time' anymore. Something that Gillan has admitted himself - that he no longer has the range to do that damage to his lungs on a nightly basis. Guitarist Steve Morse has now been in the band since 1995 and has since made Purple into a entirely different beast.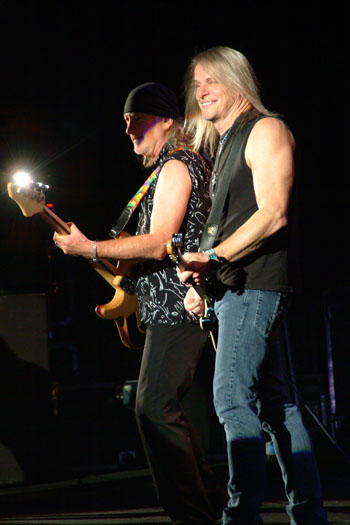 Are Deep Purple still credible? Well the answer to that is yes. Noone can argue with the musicianship of this band. It's hardly surprising that when Oasis recently pulled out of some European summer festivals Deep Purple took their place and stole the thunder from trendy younger rock bands like Kasabian who looked on in awe.
Opening with the fast and ferocious 'Highway Star' is a good way start a gig, stating their intentions as to where they're heading. This song says everything about the sound of Purple with high pitched vocals thumping bass and keyboard solos as well as the driving guitar parts inter-twining with Gillan's 'doodahing'.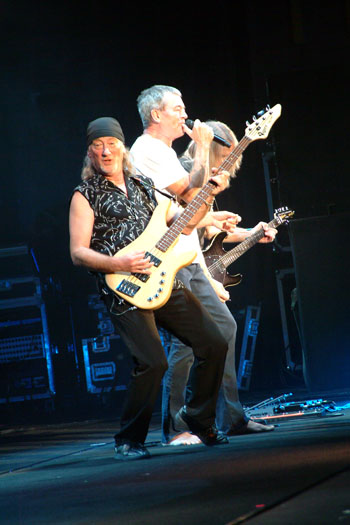 I was surprised to hear 'Things I Never Said' still in the set as this was only available on the bonus disc on their last album, but not as surprised when the band tore into 'Not Responsible', a track that was originally only available on the picture disc version of 'Perfect Strangers' (The night before ,which I also attended ,the band opted for the bluesy 'Maybe I'm A Leo').
This was by no means a greatest hits show, something that sometimes older bands get slated for. 'Wasted Sunsets' another 'Perfect Strangers track was performed for the first time on this tour. Steve Morse's expert guitar playing is crystal clear and fluent reaching new heights on 'Sometimes I Feel like Screaming' and the instrumental 'Well Dressed Guitar'.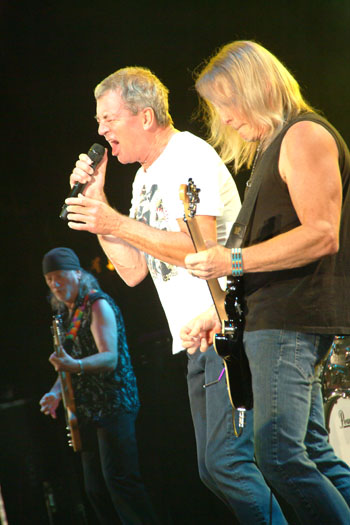 ''Here's a song that was recorded even before Roger Glover and I joined the band'' says Gillan before launching into an instrumental jazzy 'Wring That Neck' with Gillan accompanying on the bongoes. It was great to hear the funky 'No One Came' again and the powerful 'The Battle Rages On' is sublime.
'Smoke On The Water' is always a joy to hear in the live setting with the crowd participation. A standing ovation ensured.
With a new album in the offering for the new year the Purple machine head keeps on rolling and I'm happy for that.

Set list: Highway Star / Things I Never Said / Not Responsible /Strange Kind Of Woman / Wasted Sunsets / Rapture Of The Deep / Fireball / Contact Lost / Sometimes I Feel Like Screaming / Well Dressed Guitar / Wring That Neck / No One Came / The Battle Rages On / Space Truckin' /Smoke On The Water....encores ...Hush / Black Night
Review by Mark Taylor
Photos by Noel Buckley
---
Ian Gillan interview (video)
---