DAWN LANDES Sweet Heart Rodeo Cooking Vinyl (2008)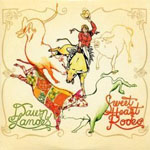 Much of her previous output has been 'quirky' Americana. But with her latest album, it looks like Dawn Landes is about to step out with the Devil and cross over to the mainstream.
That doesn't mean she's about to 'rock out'. Not by any means. But Sweet Heart Rodeo picks up the reins from Dawn's acclaimed 2008 album Fireproof, kicks pair of spurs into its ribcage and canters confidently forward.
Again it's an album crafted in much the same way as Lisa Hannigan's Sea Sew - a gentle, uncluttered, recording with subtle percussion, and sparse, but haunting instrumentation including French Horns and harmonica. And, of course, Dawn's dreamy half spoken / half sung vocals.
Recorded in her own studio with regular collaborator drummer and all-rounder Ray Rizzo, guitarist Josh Kauffman and bassist Annie Nero, it's not exactly what you might call 'commercial'. But at the same time it draws you in and leaves you wanting to press that 'repeat' button.
Beautifully played and recorded, and with rodeo theme running through it, there's little doubt Sweet Heart Rodeo will find favour Stateside, where there is wider appreciation for this ethereal brand of folk. File confidently next to Cowboy Junkies and Lisa Hannigan.
***
Review by Pete Whalley
---
| | |
| --- | --- |
| | Print this page in printer-friendly format |
| | Tell a friend about this page |