DARE Arc Of The Dawn Legend Records (2009)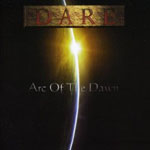 I last spied Darren Wharton in a Chester bar playing for the bright young things. Very few would have remembered him providing keys for Phil Lynott on the latter-day Lizzy albums. Some might have remembered Dare, a class act that released several excellent albums from the late eighties onwards.
He's retained a fairly low-key profile in the last decade surfacing occasionally with the latest incarnation of Dare and at Lizzy reunions, but 'Arc Of the Dawn' puts him firmly back into focus.
Dare, and Darren in particular, always possessed a transatlantic sheen that brought them into line with top liners like John Waite and even - dare I say it - Richard Marx.
The twelve songs here reinforce this, and all would sound very acceptable on daytime FM radio. It comes as no surprise that Dare's song 'White Horses' was played on the Wogan show on BBC Radio 2.
The Celtic influence present on the earlier albums is also here. As far as I am aware Darren has Welsh connections but many of the songs have a lilt and lyricism which puts them back in Lizzy territory, literally. It's slightly confusing. There's a song called 'Dublin', a cover of Lizzy's 'Emerald' whilst 'Follow The River' alludes to a wider Celtic landscape - but it could be Ireland. And there's evidently a tribute to his former musical partner Phil Lynott in 'King Of Spades'.
Divested of the Celtic textures, 'Arc Of The Dawn' reveals further gems such as 'When', a Cheap Trick cover 'The Flame' and 'Circles'. The latter - in particular - has an excellent solo from Wharton's collaborator Richie Drews who also provides excellent support throughout on guitar and backing vocals.
Time now for a reappraisal of one of our most talented melodic rock performers and, in Dare, an underrated and sometimes overlooked band.
***½
Review by David Randall
---
| | |
| --- | --- |
| | Print this page in printer-friendly format |
| | Tell a friend about this page |