Just witnessed your best live gig?.. send us a review!
DAN REED, Chester Alexanders, 27 April 2009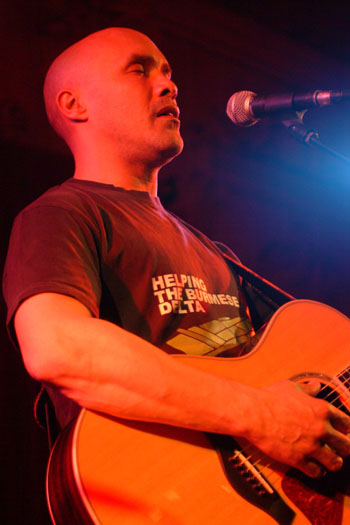 Photo: Noel Buckley
I have to admit I am a sucker for those quality artists who fall from grace but continue to plough their own furrow. Two such artists are Scottish singer songwriter James Grant and American Dan Reed. Perhaps poles apart in terms of their background but coincidentally of a similar "vintage" and after big label success (and excess) now paring down their songs and their venues, and baring their respective souls in an acoustic format.

I caught up with James Grant a couple of years back at a small folk venue in Staffordshire. Now, two dates into an extensive UK tour, Dan Reed was performing in the excellent Alexanders jazz bar in Chester. Unlikely places, perhaps, but then these are unlikely times. Dan Reed used to rub shoulders with the likes of Bon Jovi and the Stones on tour in the early-1990s.

For a few years Dan Reed Network blazed a trail, heavily promoted by a big label (Polygram) and critically acclaimed in the press. Then, after a third album, the band split and the band's frontman and songwriter went through personal crisis, only surfacing with acoustic guitar in hand several years ago.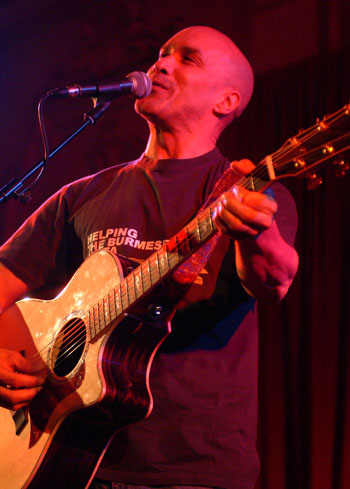 Photo: Noel Buckley
The packed Chester venue was testimony to Dan's drawing power and the collective memory. Anticipating this gig, and an interview, I'd dug out the old vinyl, and an old ticket stub dated 1990 when his band toured the 'Slam' album. No doubt, this tour will prompt many to do something similar.

I'd looked at track listings before the gig, pondering over the likely suspects. To Dan's credit he did tackle some songs that you might not have expected in an acoustic format: notably the sublime 'Ritual', 'I'm So Sorry' and 'Get To You' all from the eponymous debut album. We also had excellent versions of ' Tamin' The Wild Nights', 'Rainbow Child', 'Stronger Than Steel' (on piano) and 'Lover'.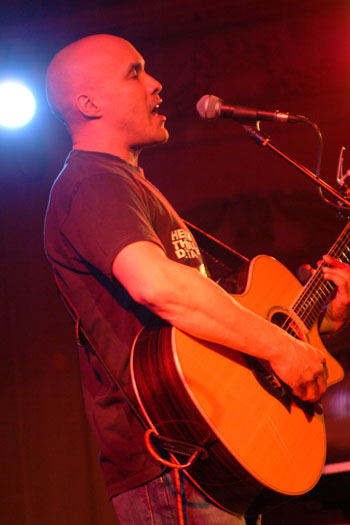 Photo: Noel Buckley
With such strong fare on offer, the newer stuff would inevitably struggle - perhaps through lack of familiarity. Songs like 'Promised Land' and 'On Your Side' merely served to punctuate an interesting recent personal history when Dan returned to India, studied in a Tibetan monastery, and then explored the Middle East.
'Losing My Fear', 'Coming Up For Air' and 'Brave New World' (sounding a tad like Tracy Chapman's 'Fast Car') are from the album scheduled for release later this year and are also included on a tour-only live CD.

In our chat before the gig, there were hints that this tour might be the last in this present format and that future outings will be with a band. But don't expect a raunchy 'Tiger In A Dress' just yet.


****

Review by David Randall
Photos by Noel Buckley/GRTR!
Dan Reed is on tour in the UK until May 17.
---
David Randall interviewed Dan Reed at the start of his UK acoustic tour. This interview, first broadcast on Get Ready to ROCK! Radio, is now available as a podcast. Follow above link for more information.
---
| | |
| --- | --- |
| | Print this page in printer-friendly format |
| | Tell a friend about this page |