DAEDALUS The Never Ending Illusion
ProgRock Records (2009)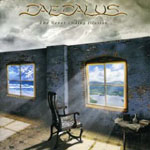 Second album by this Italian based progressive metal band and the first to feature new band members vocalist Davide Merletto and guitarist Andrea Torretta. Former Helloween guitarist Roland Grapow mixed the album and celebrated illustrator Mark Wilkinson provides the cover artwork.
For fans of Dream Theater and the technical playing side of prog metal this release will be right up your street. However if you prefer more song based music then this can get bogged down at times none more so than the title track which veers of into jazz rock noodlings halfway through. Fine if you like that sort of thing but not my personal listening of choice. 'Perfect Smile' and 'A Journey To Myself' are fine examples of well structured prog metal though and fair play to the band as they add some classical music to their mix which works very well.
Dream Theater fans give this a listen as you will almost certainly find much to like on this album right down to the high range vocals of Davide Merletto.
***½
Review by Jason Ritchie
---
| | |
| --- | --- |
| | Print this page in printer-friendly format |
| | Tell a friend about this page |
***** Out of this world | **** Pretty damn fine |
*** OK, approach with caution unless you are a fan |
** Instant bargain bin fodder | * Ugly. Just ugly
get ready to rock is a division of hotdigitsnewmedia group