Just witnessed your best live gig?.. send us a review!
THE CULT
Shepherds Bush Empire, London 18 October 2009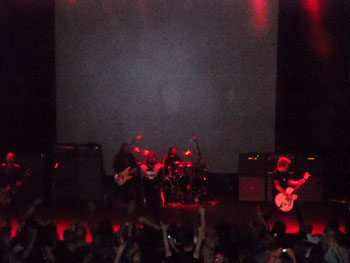 Playing albums in their entirety seems to be a good selling point these days. A chance for fans to relive golden memories to transport them back in time, to a time when they played an album to death that is now etched in memory for ever.
Also a chance for fans to know exactly what they're gonna get at a gig rather than night of nameless tunes. This can also be very profitable for the bands, and for those whose career is in decline, this can be sure way of putting pennies into the coffers. A win win situation, something that will go for a long time yet.
Tonight was the turn of the Cult, who were to perform their 1985 Beggars Banquet release of 'Love'. A breakthrough album that combined the indie goth scene with fusions of rock. An album that gave the Cult three top 40 singles and went on to sell 2.5 million copies worldwide.
The band had just completed an European tour and had played the capital just a week before at the Royal Albert Hall, but this had to be the hot ticket, for this show at the more intimate Empire was to be grand finale of this tour.
With no support the fans had a long wait before the band came on stage just after 9pm.The band launching straight into the 'Love' LP in it's original running order.
For people who brought the CD release some years later would've found that tracks 'Judith' and 'Little Face' were omitted as these were not on the orignal vinyl release.
Billy Duffy was in the spotlight for most of the gig, and I mean that literally as the lighting man kept the rest of the band in the dark for most of the gig. Not that people downstairs were complaining. From were I was up on the balcony the dance floor was swarming with bees who had just had their hive kicked in.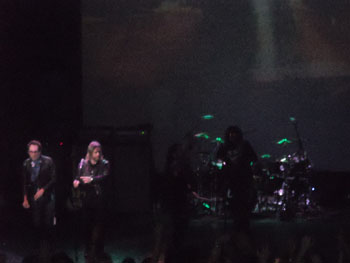 Ian Astbury who had been suffering from a cold earlier on the Europeon leg was in fine voice, but still had the Jim 'dead in the bath' Morrison look with bushy shoulder length hair and a beard which hadn't been touched in weeks.
It was the three singles that caused most reaction. 'Rain' and 'Revolution' had the crowd singing in unison, but it was 'She Sells Sanctuary' which brought the memories back of a happy youthful time of '85.
As I never brought 'Love' album at the time of release ,it was the encores that I enjoyed the most making the set stretch to a full 90 minute show. 'Fire Woman' was rauchous and 'Love Removal Machine' went down so well it seemed the goths in attendance had forgiven the Cult for going metal.
With the dead Mickey Mouse logo behind them they returned to play two tracks from the first LP as a treat for those who had brought tickets for both London shows. 'Horse Nation' and 'Spritwalker' ending an enjoyable set.
For me this was the end of a mammoth eight gigs in nine days, which ended in style at the aftershow, and it was to be a star studded affair too. Comedian Mighty Boosh Noel Fielding was all glammed up, Sex Pistol Paul Cook was keeping a low profile and - sporting a new moustache that the Three Musketeers would've been proud of - was Hot Legger Justin Hawkins.
The oddest sight was Ian Astbury himself who was covering himself in a hoodie. Didn't he want to be recognised at his own aftershow? It's only rock'n'roll but I like it.
Where the Cult go from here is anyones guess, but expect a tour of 'Electric' some time soon.

Set list: Nirvana / Big Neon Glitter / Love / Brother Wolf Sister Moon / Rain / The Phoenix / Hollow Man / Revolution / She Sells Sanctuary / Black Angel / ...Electric Ocean / Wild Flower / Sun King / Rise / Dirty Little Rock Star / Fire Woman / Love Removal Machine / Horse Nation / Spiritwalker.


Review and photos by Mark Taylor
---