CUDDLY SHARK Cuddly Shark Armellodie Records (2009)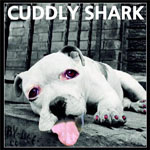 The name will go some way to explaining what this Glasgow three piece are all about.
It's the kid at school who'd smile at you one day and steal your lunch money the next. Opening track 'Bowl of Cherries' is as venomous as any opening track I've ever heard. This hardcore offering would have limbs flailing around the mosh pit of many a venue.
'Woody Woodpecker' starts off with an atmospherically arpeggiated riff before settling into some kind of rockabilly riff, bizarre and yet slightly infectious.
On third track 'The Punisher of IV30' frontman Callin' Colin goes slightly schizophrenic..the result being a hybrid mix of Iggy Pop and Serj Tankian.
After a while, you begin to realise this is a band that aren't afraid to experiment.
'Mannybix', and 'Whiteoaks' offer seemingly random time changes, moments of punk and country, in fact you name it, if it isn't here, it probably doesn't exist.
On cover song 'Boney Fingers', the mosh pit frenzy and flailing limbs soon gives way to yee hahs and line dancing ....no I'm not joking.
'12 Months' brings the ho down back down to earth, with a stop-starting chugging riff amidst rants of sexual abstinence.
Elsewhere on the album there is the pointless waste of 52 seconds that is 'Jamie Foxx on Later with Jools Holland', the gloriously upbeat 'Instru-Mentalist' and 'The Sheriff of Aspen Bay'...a Led Zep style stomper.
Angry, fun and as unpredictable as being trapped in a lift with a ticking bomb. Cuddly Shark are as effortlessly cool as it gets.
****
Review by Darren Coomber
---
| | |
| --- | --- |
| | Print this page in printer-friendly format |
| | Tell a friend about this page |