COZY POWELL Reissues Lemon/Cherry Red (2009)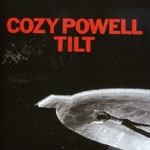 Solo albums 2 and 3 from the legendary late drummer who left a greater legacy (and fuller CV) than most can dream of. Cozy is best known perhaps for his stints with Jeff Beck, Rainbow, Whitesnake and Black Sabbath, but also played with Michael Schenker, Graham Bonnet, Brian May, Cinderella, Hot Chocolate (yes really) and a long list of others along the way.
Cozy's first three solo albums have been available in Japan for quite a while, only served here by a pretty poor compilation, so it's decent to have the legacy done properly in this country at long last. Well, nearly properly. And where's 1979's Over The Top?
The first album here, Tilt, was recorded and released in 1981, during Powell's tenure with MSG. And typically Powell doesn't go out to be flash, but to play very solid and have fun with friends.
Opening track is the instrumental 'Cat Moves', and sounds appropriate. But with both Jeff Beck and Jack Bruce on board, and keyboards from both David Sancious and John Cook, these guys can coast and sound more proficient than most can only dream of. 'Sunset' is more laid back, and features Don Airey and Gary Moore; this really is an allstar crowd.
The first standout though, is the moody 'Living A Lie', featuring former Bedlam cohort and vocalist Frank Aiello. 'The Blister', a Moore/Airey composition, musically up the same street as Over The Top but a real high speed belter. Two tracks worth investigating are 'The Right Side' and 'Jeckyll & Hyde', featuring vocalist Elmer Gantry, guitarist Kirby and pianist John Cook. MSG bassist Chris Glen is there too, as is saxophonist Mel Collins on the former.
Final track and single 'Sooner Or Later', with the same line up, is a real rocker and probably my favourite track on the album. ****
1983, and now in Whitesnake, Cozy Powell released Octopus, and this is a totally instrumental affair. It also features Whitesnake bandmates Colin Hodgkinson, Mel Galley and Jon Lord as well as Don Airey and Gary Moore. Oh, and there's an orchestra too! The title track is rhythmic, drums and bass led, and then there's the classical touch with '633 Squadron', a track that, along with the 1812 Overture, would form a large part of many a drum solo. The soundtrack 'The Big Country' gets a Cozy workover too.
'Formula One' is a straight rock number, with some excellent drum and guitar parts, while the slow 'Dartmoore' sees an excellent solo from Gary Moore. Another real thrash is 'The Rattler', co-written with David Coverdale. ****½
Two excellent albums, but no extras. Some nice notes but are a little short. Not 100% accurate but you can't have everything. And the track details, reproduced from the LP, end up rather small.
Any hard rock fan or collector will, however, get a great deal from these albums.
Review by Joe Geesin
---
| | |
| --- | --- |
| | Print this page in printer-friendly format |
| | Tell a friend about this page |