BRIAN MAILLARD Melody In Captivity www.brianmaillard.com (2008)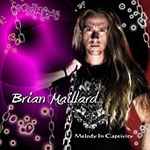 Brian Maillard came to my attention with Charlie Dominici, and lent his fine guitar skills to the latest (and sadly overlooked) Dominici album released in 2008. He's also been working with his own project Solid Vision with brother Yan who also features on this, his first solo album.
Guitarists' solo efforts tend to be either over the top or unlistenable due to the propensity to over do things. Thankfully, Brian is a man of taste and there is a depth to his album sadly lacking with the less experienced or - for that matter - those who should know better.
The opener 'Relax In Your Mind' pretty much sets out his stall: riff-based but with a lyrical melody and excellent traction. 'Liberation' starts with a phased motif before slipping in to a pleasing groove and Satriani-esque figures whilst 'A Perfect Lie' is heavier but still melodic.
'Water Song' slows the pace and is more lyrical with a touch of the Neal Schon, showing that Maillard is not just a shred-merchant and this is repeated on the closing piece 'Orev'.
The title track has a great riff and motors nicely with a great wah solo and eastern flavours. 'Implore' has another excellent riff and attractive melody whilst 'Wickedness' echoes Satriani in its wah phrasing.
Metal-flavoured guitar can be derivative (aka Satriani or Vai-esque) or an acquired taste. Maillard was born in Switzerland and his inspiration comes as much from the European tradition as the American model. With Italian Marco Sfogli he is at the forefront of the current crop of Euro players. And those who come to him via Dominici will be well pleased.
***½
Review by David Randall
---
| | |
| --- | --- |
| | Print this page in printer-friendly format |
| | Tell a friend about this page |
***** Out of this world | **** Pretty damn fine |
*** OK, approach with caution unless you are a fan |
** Instant bargain bin fodder | * Ugly. Just ugly
get ready to rock is a division of hotdigitsnewmedia group