Just witnessed your best live gig?.. send us a review!
BLACK STONE CHERRY/Duff McKagan
Hammersmith Apollo, London 15 October 2009
Black Stone Cherry have grown from strength to strength these last few years, with some great support slots under their belts including a tour with Def Leppard and Whitesnake whilst also playing bigger headlining shows with every visit to the capital going from the ULU, Astoria, Brixton Academy and now the famous Hammersmith Apollo (Or the Hammy O, as us old timers affectionately call it.).
The Parlor Mob opened up tonight with a short set that won over this young crowd. Sounding like a cross between Black Crowes and Wolfmother, promoting their new CD 'And You Were A Crow', you couldn't keep these no good boys down. A name for the future. They will soon be following the same path as Black Stone Cherry.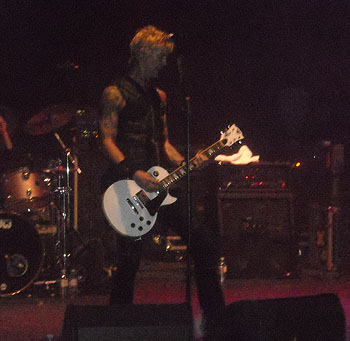 Duff McKagan's Loaded was a fine addition to this bill. The former Guns 'N Roses bassist and his band played punky songs from 'Sick' as well as tried out numbers as 'Attitude' and from GNR's 'Use Your Illusion' the self penned 'So Fine' kept the set finely balanced.
The biggest surprise came at the end when he invited a guest on stage - none other than Manic Street Preacher James Dean Bradfield to perform 'It's So Easy', a track that the Manics regularly performed as an encore themselves in the early nineties.
Duff dedicated the song to those in the audience under the age of 30 who wouldn't have seen the original Guns 'N Roses perform that track. It was at this point i realised the first time I saw Duff perform here was way back in 1987 when the original Guns 'N Roses played a classic gig to a not sold out crowd. Was it really 22 years ago? I'm sure Duff was thinking the same thing.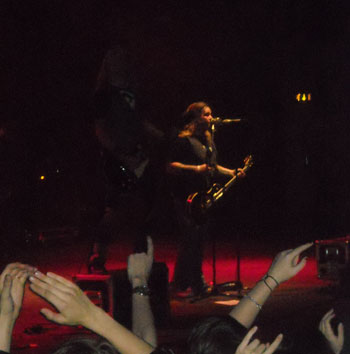 When I saw Black Stone Cherry last year at Brixton Academy I felt the performance was a little subdued, but tonight the band were firing on all cylinders. With a great sound the Kentucky boys sounded a lot heavier and gritty tonight.
Playing the best tracks from their two CD's most of which were from the debut,the young audience took the band to their hearts. Having said that the biggest cheers were for two tracks from the latest CD 'Folklore & Supersititon' 'Blind Man' sounds corking live and 'Things My Father Said' was heartfelt.
The band seemed to be enjoying every minute on the stage. Drummer John Fred Young never pausing for breath doing his best 'Animal' impersonation with hair and sticks flying everywhere. Chris Robertson and Ben Wells can't get a word in edgeways sometimes as they both want to talk to the crowd. Robertson said their greatest feeling was at this year's Download Festival when the crowd was shouting out the bands name over and over again.
Giving us a historical lesson in their influences too was great with a snippet of Lynyrd Skynyrd's 'Sweet Home Alabama' and a fantastic grungy dirgy version of the Muddy Waters number 'Hoochie Coochie Man' was sublime.
The greatest sight tonight was at the end of the Jimi Hendrix cover of 'Voodoo Chile' when all three guitarists held thier axes aloft behind their head in a circle and played the final notes. A moment I wish I could've captured on camera.
A fantastic night. The Black Stone boys popped their cherry tonight.

Review and photos by Mark Taylor
---