Just witnessed your best live gig?.. send us a review!
BLACKHEART
BBC Club, London, 10 September 2009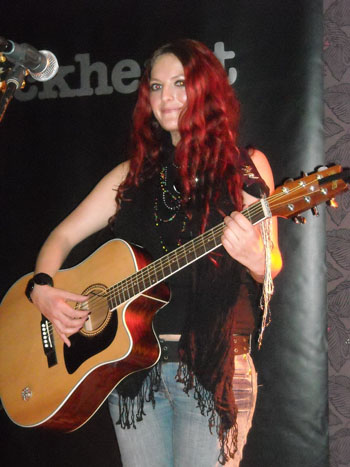 I was cordially invited to attend a showcase gig by those kind folk at Angel Air Records to see a name that the label has a lot of faith in. A name that just two days earlier I had never heard of, but after searching for the name on the internet - and liking what I saw - I was looking forward to this showcase gig very much.
Situated in the plush bar of BBC Radio in the heart of London, I was to witness Blackheart. An artist whose CD's you may find filed under the folk section, but it soon becomes apparent that this duo appeal to a much wider audience than just the wooly jumper and real ale brigade.
Songs like 'The Sky And I' wouldn't be out of place on a later day Fleetwood Mac album.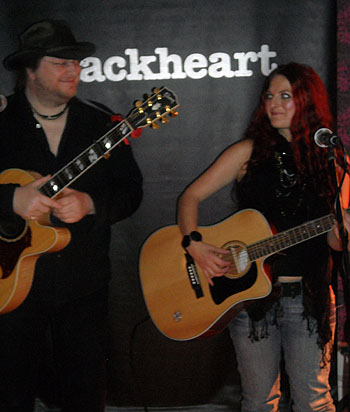 What we have here are a male/female duo who both play acoustic guitar and share vocals, and boy what a singer we have in Welsh girl Chrissy Mostyn, with the voice of an angel, but not in the Charlotte Church mould, more akin to Briana Corrigan from Beautiful South, but much softer, tender and innocent.
With looks to match, this red haired rock looking chick is the kinda girl you always wished was your next door neighbour when you were a teenager.
Accompanied by fellow songwriter Richard Pilkington, the first song today was the very infectious single 'Wednesday Afternoon', an upbeat number that has been circling my brain all week.
Simon Davies joined them on keyboards later on for two songs giving Blackheart more depth and a fuller sound.
The last number of this short set was '94 Years' the age of Richard Pilkington's father when he passed away, a poignant and well crafted song about things that were never said between father and son. A song so good that it was included on a Radio 2 playlist last year.
Some people in the media describe Blackheart as 'urban folk', but folk rock or simply just another form of rock is fine by me. If you're looking for something a bit mellow, enchanting and endearing, then you can't go wrong with Blackheart. Promoting new CD 'Invisible', you should be seeing a whole lot more of the duo in the future.
Also enjoying themselves in the audience were musicians Mo Foster, punk legend Edward Tudor-Pole and one time Thin Lizzy six stringer Eric Bell. After the show, I'd made the most of the wine on offer and joined all three for a great hour long chat. A very pleasant way to spend a Thursday afternoon.

Review and photos by Mark Taylor
---