BILLY RAY CYRUS Back To Tennessee EMI (2009)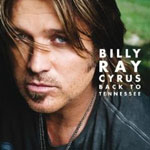 To us of the classic rock generation BRC will be forever associated with that 1992 albatross Achy Breaky Heart. To those with young daughters he has entirely different association - on screen Dad to Disney's Hannah Montana.
Whichever way you look at it BJC is being usurped by his offspring - Miley as Hannah Montana, and a pop star in her own right, and his son Trace is starting to break through with his band Metro Station. For BJC, it's time to re-establish his place at the head of the table.
Now, I have to confess that since the likes of Alisson Kraus and Dixie Chicks reinvented country, I'm as partial as the next man to a bit of pedal steel and a hoe down. And although BJC remains 'Country As Country Can Be' he also grew up on Lynyrnd Skynyrd, ZZ Top and the Allman Brothers. Nevertheless, I approached this release with caution.
First off, you get 14 tracks - so full marks on the value for money front. Secondly it opens with the excellent Ready Set (Don't Go) taken from the Hannah Montana movie featuring some great vocals from Miley.
Much to my surprise it's a pretty good album - maybe a bit on the schmaltzy side - as opposed to 'authentic' Union Station, but always eminently listenable mixing rockabilly, country, and folk. And at times - it hits the nail firmly on the head - He's Mine is a superb Glen Campbell style ballad, the lilting Like Nothing Else, the rocking Love Is A Lesson and Real Gone (written by Sheryl Crow), and Butterfly, Fly Away with Miley which could so easily be the Dixie Chicks.
One suspects Achy Breaky Heart will continue to overshadow BRC's recording career. But if this album had been released by Jon Bon Jovi, it would probably be met with so much more credibility. I'm off to eat my Stetson.
***
Review by Pete Whalley
---
| | |
| --- | --- |
| | Print this page in printer-friendly format |
| | Tell a friend about this page |