Just witnessed your best live gig?.. send us a review!
BIGELF
Camden Barfly, London 16 October 2009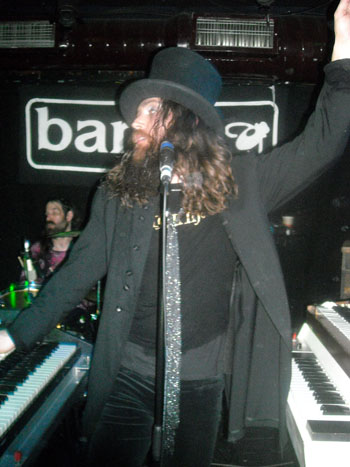 Little has been heard of Californian heavy progressive rockers Bigelf here in the UK, despite releasing four albums in the last thirteen years. Last week they were playing huge arenas on the 'Progressive Nation' tour along with such heavyweights as Dream Theater and Opeth. Tonight was their turn for a headline show at the tiny Barfly.
Before tonight I hadn't even listened to one note from Bigelf but as soon as the band kicked in I was immediately hooked. Combining a sound from the down tuned doom guitar groove of Black Sabbath along with the heavy keyboards of ELP and early Uriah Heep mixed along with a touch of commerciality. I was in prog heaven, having waiting some twenty five years for a band to produce this wall of sonic sound.
Not many bands can attract members of all ages to their show and considering Big Elf are a new name in Britain this was no mean feat, most here tonight after witnessing their performance a week before as a support act at Wembley Arena just six days before.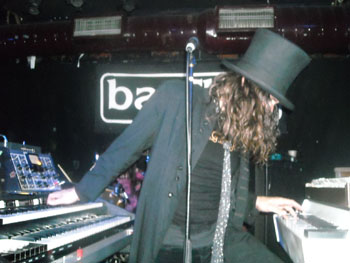 Band leader Damon Fox takes centre stage surrounded by his mellotron keyboards which take up most of the stage space. Sometimes chaotic as he takes on vocal duties too between blasts on the mellotron. Long time band member Duffy Snowhill provides thunderous heavy bass lines and when he is not riffing there are some text book Heep via Purple guitar licks from guitarist Ace Mark.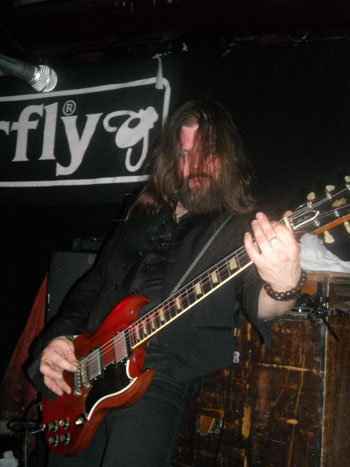 Playing a set that heavily relied on their last two releases ('Hex' 2003 and new CD 'Cheat The Gallows'), this set was a rare occasion that not once did I want to pay a visit to the gents or nip outside for a crafty fag. I was so absorbed by the music that I didn't want to miss a single second.
The music was pompy and bombastic ,but they did have some transcending quieter moments as on 'Disappear'. 'Money It's Pure Evil' was built up into an instrumental crescendo. With time running short the band opted for a cover of Pink Floyds 'Have A Cigar' sounding like an old stratched vinyl copy with beer spilt all over it. Marvellous stuff.
This was one of those gigs that in a couple of years I'll be saying ''I was there.''. Bigelf may be little giants for now, but they're soon be headlining the likes of Brixton Academy's. Mark my words. There is a whole generation of music fans out there who can relive the sound of the progressive seventies with a new twist. Enjoy.

Set list : The Evils Of Rock'N Roll / Neuropsychoptic Eye / Pain Killers / Blackball / Disappear / Bats In The Belfry I / Hydra / Money It's Pure Evil ... encore... Have A Cigar

Review and photos by Mark Taylor
---