Grand old man of blues has his moments...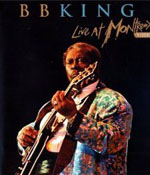 There's no better way than shifting back catalogue than latching to a current tour and that's exactly what this DVD sets out to achieve on the back of BB Kings surprising 2009 European Summer tour. And while 'Live at Montreux' features a staple BB King set, there are a few moments worth waiting for.
For in between the routine 'Let the Good Times Roll', 'When It All Comes Down', 'The Thrill is Gone' etc, there are a few more illuminating musical moments. On 'Chains of Love' for example, BB breaks a string but eschews any helping hand and just belts out the blues with venom while casually taking care of his broken string.
Then there's the elongated instrumental 'All Over Again' on which he achieves a quite lovely vibrato whilst evoking 'Summertime' somewhere in the middle. As with virtually all blues acts at Montreux you get the accompanying big band - in this case it's the BB King Orchestra - of whom the horn section of Walter King, Melvin Jackson and James Bolden blaz e their way through some well thought out arrangements.
BB himself digs deep for a brace of new songs, of which 'Since I Met You Baby' is a brief growled slow blues followed by a funky shuffle 'Playing With My Friends. In fact it's when he introduces this song that he adds a subtext, about getting back to the more popular stuff soon.
More of the lesser known stuff might indeed have been welcome. When you've played Montreux on countless occasions and when you are virtually part of the fixtures and fittings - as eluded to by the rather obvious liner notes - then this surely is the occasion to step out and play the blues the way you feel them, without regard to the cabaret quotient.
But to finish on a high, BB was 68 when he played Montreux in 1993, and the fact he gloriously retains his signature tone, expressive voice and brand of charisma is reason enough to enjoy another turn by the blues master.
***
Review by Pete Feenstra