Just witnessed your best live gig?.. send us a review!
ALICE IN CHAINS
Forum London, 17 November 2009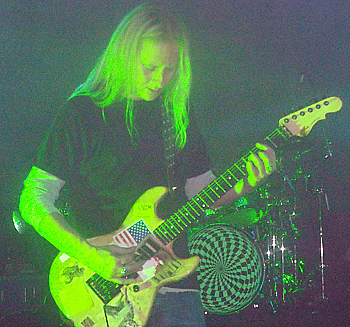 Grunge gods Alice In Chains are in town for two sold out shows. I was fortunate enough to attend both shows and glad I did as the second show saw the band change the set list around for the hardcore fans who had bought tickets for each night. Having seen them earlier in the year at the Scala I was enjoying my Alice In Chains overload.
Kicking off with the thunderous 'Them Bones' and a hysterical start to the gig. New song 'Checking My Brain' with it's heavy dirgy riff sits well with the classics. 'We Die Young' from 'Facelift' was welcomed into the set. On previous nights on the UK tour 'It Ain't Like That' - another track from the debut had been the show opener - but tonight it was moved to the middle before the first of a few acoustic tracks along with 'Heaven Beside You' and the sap of 'Got Me Wrong'.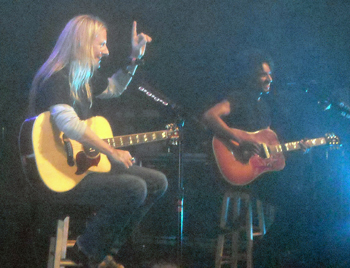 When Lane Stayley sadly passed away many thought it had spelt the end of the band but William DuVall has settled in well taking on vocal duties and guitar parts often coming to the front bending over the photographers pit to be close as possible to the out scretched hands.
The voices of band leading guitarist Jerry Cantrell and DuVall work in fine unison. 'Angry Chair' is as aggressive as the title suggests before ending the set with a heavy bass driven 'Man In A Box'. For the encores two songs from the seminal 'Dirt' sound a whole lot better live. 'Would' quickly passed, but 'Rooster' is slowly turning into the ultimate Chains classic.
Along with the fans, Alice were in wonderland tonight.

Set list: Them Bones / Dam That River / Rain When I Die / Check My Brain / Your Decision / We Die Young / Last Of My Mind / Sickman / Again / It Ain't Like That / Heaven Beside You / Got Me Wrong / Black Gives Way To Blue / Nutshell / Lesson Learned / Angry Chair /Man In A Box...encores ..Acid Bubble / Would / Rooster

Review and photos by Mark Taylor
---