Just witnessed your best live gig?.. send us a review!
ALICE COOPER
Manchester Apollo 24 November 2009
Photos by Lee Millward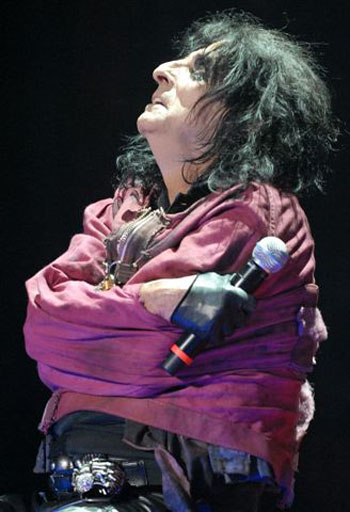 Old Panda Eyes is back. Some 35 years since I caught the Welcome To My Nightmare tour, the grandmaster of shock rock is back. This time with what is essentially a 'best of' tour marketed under the Theatre Of Death banner.

And he's back in fine fettle. As evidenced by his confidence to release immediate post gig USB stick sound desk recordings from each gig.

Set against a 'From The Inside' style stage backdrop, and with Alice spelt out in stage-high Killer/Eyes Of Alice Cooper style lettering, he delivered an hour and a half set without hardly a pause for breath or applause. As the dying chords of one classic faded, another began cranking up.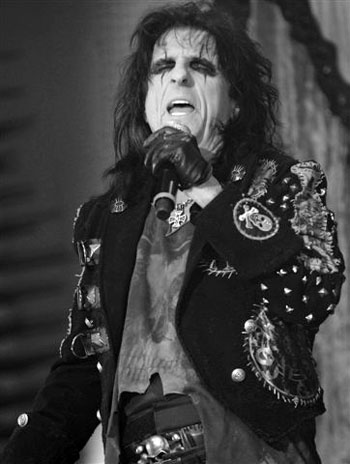 As always, Alice picked a backing band of lean, keen young guns who played their part with aplomb - adding to the spectacle with plenty of posturing but also bringing a youthful garage band edge to the set.

But there was only one centre of attention. They say 60 is the new 40, and Cooper rolled back the years with a vocal performance as good, if not better, than ever. While some singers have lost their range with their advancing years, the Coop has simply grown into his voice. He did equal justice to old and new numbers alike.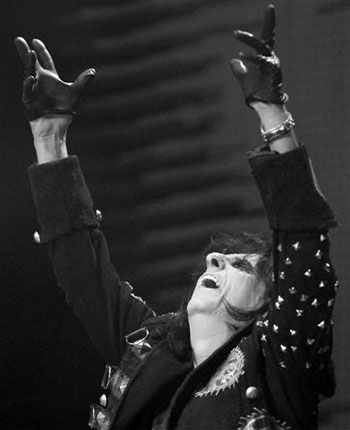 In a set that spanned almost 40 years from 'Love It To Death' ('Eighteen', 'Ballad Of Dwight Fry' and a magnificent 'Is It My Body') to 'Along Came A Spider' ('Vengeance Is Mine' delivered from an elevated position above the stage), Alice delved into his back catalogue to stitch together a loose storyline against which to deploy his usual theatrics including death by guillotine, lethal injection and the gallows.
But it was his revisiting of some of his earlier recordings that was the highlight. For example the visceral 'Be My Lover' staged against a backdrop of Nurse Rozetta's striptease behind a backlit screen, Cooper dressed in asylum inmate whites and sung with Rozetta's discarded tights pulled down over his face.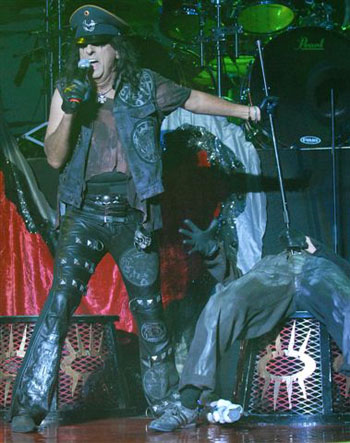 Elsewhere there were the usual assortment of cadavers ('Cold Ethyl'), ghouls ('Welcome To My Nightmare'), necklaces tossed to the crowd ('Dirty Diamonds'), dollar bills scattered from the end of his sword ('Billion Dollar Babies') and glitter filled balloons.

The whole set was a rollercoaster ride closed off in style with a superb version of 'Under My Wheels', before 'School's Out' brought the final curtain down.

Many have tried (and failed) to imitate Alice Cooper's brand of theatrical rock. On this form, no one has come close. Of course the strength of his songwriting shouldn't be overlooked, and I came away thinking what a great unplugged set he could offer.
But for now, Alice Cooper is in the form of his life and the Theatre of Death tour was a masterful performance. Catch him while you still can.
*****

Set-list
School's Out/Department Of Youth/ I'm Eighteen/ Wicked Young Man/ Ballad Of Dwight Frye/ Go To Hell/Guilty/ Welcome To My Nightmare/ Cold Ethyl/ Poison/ The Awakening/ From The Inside/ Nurse Rozetta/ Is It My Body?/Be My Lover/ Only Woman Bleed/ Black Widow(instru)/ vengeance Is Mine/ Devil's Food/ Dirty Diamonds/ Billion Dollar Babies/ Killer/ I Love The Dead/ No More Mister Nice Guy/ Under My Wheels/ School's Out (reprise)

Review by Pete Whalley
Photos by Lee Millward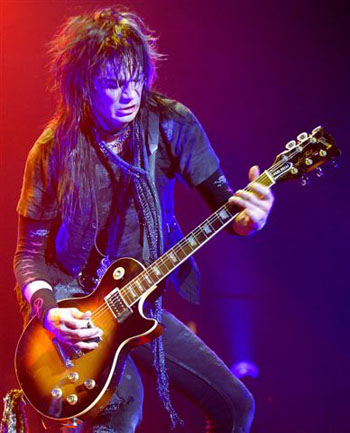 ---