AL ATKINS with NEIL DANIELS Dawn Of The Metal Gods - My Life In Judas Priest And Heavy Metal Iron Pages Books (2009)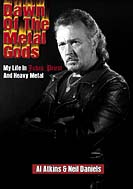 Al Atkins is the "nearly" man of heavy metal and this autobiography (co-written with GRTR!'s Neil Daniels) sets his record straight.
The book starts right back in the formative years of the Midlands metal boom, and as such it makes for fascinating reading as it catapults us back to the sixties when Atkins started out alongside the likes of The Move and The Fortunes.
Given Judas Priest's later history with Rob Halford, it is easy to forget that it was Atkins who formed the band and wrote some of their best known early efforts that appeared on their first two albums.
In essence, Atkins story will be of great interest to any aspiring rock band, and the trials and tribulations will be all too familiar. It also is a good primer for life on the road with a band in the early seventies.
I remember seeing Priest at St Georges Hall in Liverpool supporting Budgie in March 1973 (one of Atkins' last gigs with the band) and I even got KK Downing's autograph. In that respect, this book does rekindle fading memories.
The book is spiced with testimonies from band members and acquaintances through the years which leads us to the impression that Atkins is a talented good egg who may not have fully realised his potential. He left Priest broke and frustrated in 1973 and took a day job in a repair garage in the Midlands later resurfacing with the band Lion which is chronicled here together with his later solo career. The story is brought up to date with Atkins current band The Holy Rage.
This is a well produced book with some excellent archive photographic material - some in colour - and well edited by Neil Daniels.
In setting the record straight Atkins has reasserted his claim to be one of metal's early movers and this work should therefore be snapped up by those interested in the dawn of the genre in the UK and the Birmingham beat scene in general, in Judas Priest, and those simply willing to hear his fascinating story.
****
Review by David Randall
---
| | |
| --- | --- |
| | Print this page in printer-friendly format |
| | Tell a friend about this page |