Just witnessed your best live gig?.. send us a review!
SONISPHERE
Knebworth, 1-2 August 2009
The first Sonisphere festival to make an appearance here in the UK, the last date of the European tour set up by ex 'Monsters of Rock' festival organiser, Stuart Galbraith. But was it any cop..?

First things first, sign posts are usually a basic provision when locating a festival, one sign post on a motorway is not an ideal set up. Things got worse, when we hit the back of a 4x4 at a roundabout, in a Lexus. Let's hope bad luck doesn't prevail for the rest of the weekend.

Once we managed to locate the entrance, we were surprised to find quite en empty field to put up our tents, thankfully our field also contained toilets and showers.
Our field did however, become very cramped by Saturday morning, but I must add this was guest camping and not standard, and apparently standard camping was very spacious! The toilets weren't kept clean during the festival but we did have hot water in our showers, even if there were only 4 showers for about 1000 people. Could be worse.

In the evening, we went for walk around arena to gather our surroundings. We have our usual fairground attractions, penny slot machines, and the evil "Jagermeister" truck that draws you in like a butterfly to a tulip.
The shops here are very good and prices are even better! From jewellery to fun hats, T-shirts, New Rocks, and your usual Legal High stalls that seem to be the most favoured stall and a very large array of food stalls. So many in fact, I spent an hour deciding what I wanted to eat.
Usual prices at the bar too, and no ticket system! Enter bar with cash and buy ya goods. £3.50 for pint/wine etc. Not many I'D requests going on though, which worried me a little bit.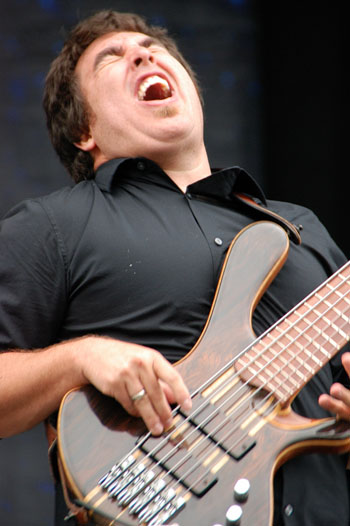 Friday night sleep was non existent, we were camped by the band "Panic Cell" (check these guys out, they gave me their un-mastered demo of a new album and it rocks!!!) who were intent on partying hard and keeping us all awake, so by Saturday morning, nobody near by was in the mood for a hard days rocking! Well, you can sleep when you're dead, so I popped off with a high caffeine drink to watch the first band of the day Alien Art Farm (AAF)".
"AAF" haven't been in the UK for a very long time and I was gleefully looking forward to hearing 'Smooth Criminal' which was played at the end of the set on main stage after other AAF greats such as "Movies' and 'Forgive and Forget'. Vocalist 'Dryden Mitchell' likes to get his front bottom out, but quite surprisingly, it looks more like girls bits!!! Strange, but true!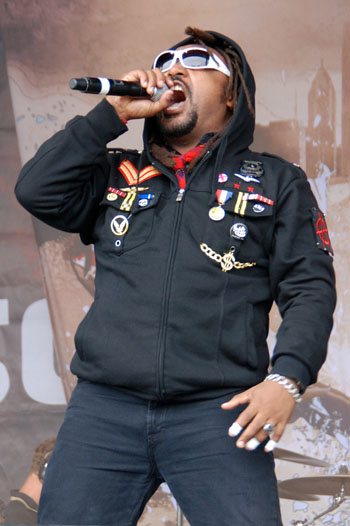 Next up for me today is Skindred on the Saturn Stage. The Saturn Stage is basically a small version of the main stage, aptly placed opposite the main stage. Whatever stage you are stood at, you can still enjoy the band without moving, music travels across a field so you don't have to! Skindred vocalist 'Benji' is in very high spirits and in my opinion, this was the highlight band of the day! I met a lubricated Benji backstage, and he admitted that he had "A very fun time", so did I! Don't forget, Skindred are tour later in the year!

Next up is something very unusual for a metal festival, anyone fancy some 70's disco from Abba replicas "Bjorn Again"? Yes, you did read that right, "Bjorn Again" don't get me wrong a fun gathering of sing-along's is good for morale, but I don't like Abba and I am sure as hell not making the walk to the Saturn Stage for this one, however I did sing-along to their rendition of 'Metallica's; "Enter Sandman". What a bizarre moment. And the next photo is one for the boys!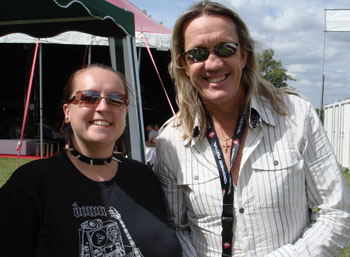 Busy, busy; one band finishes, the next one starts, us older folk can't keep up. My I say, the bands only get around 35mins each (excluding the headliners), which I think is a shame; it takes that long for a band to relax with a crowd. We decide to take a rain check on watching "The Used" and "Taking Back Sunday" and pop off to the metallers dream land that is the "Artist/Guest Area". This is where you can use posh toilets, eat restaurant food, get free drinks and meet famous people, without being a pain of course. Here's a chap you will recognise who was here supporting "Lauren Harris", meeting up with friends and checking out some of the stage action Nicko McBrain, from Iron Maiden. 'Nicko' was really enjoying himself too!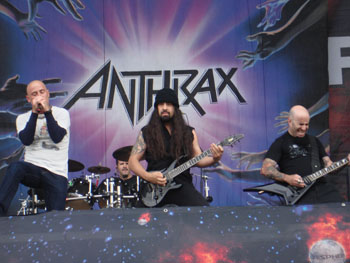 Back to the arena main stage for the well anticipated act of the day Anthrax, it's a treat today, previous vocalist 'John Bush' is back and he is back with vengeance! In my personal experience and opinion, John Bush made this the best Anthrax performance I have seen to date and the previous dreary atmosphere is now more excited and hell bent with the first bottle throwing moment of the day - you cant have a metal festival without a bottle throwing moment! 'Anthrax' was magic!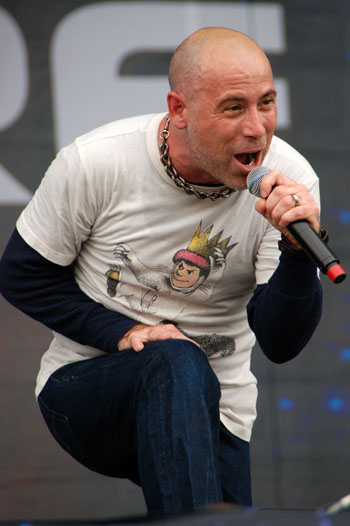 'Runnin Wild' to the Saturn Stage for Airbourne who were quite simply, on best form. The crowd went mad, Airbourne went mad, even I went mad! It had starting raining, but nobody cared, we were in awe of the electric on the stage and this was a perfect follow up to Anthrax.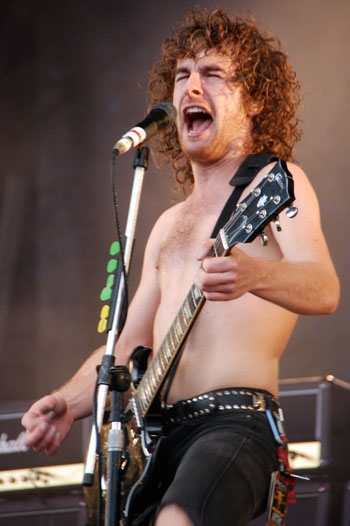 Coheed and Cambria followed on the main stage, then Bullet For My Valentine headlined the Saturn stage. As the rain was now heavy, we slipped our way through the mud over back to the artist bar. I bumped into Killing Joke who weren't playing until tomorrow, and I was keen to say hi to front man "Jaz" as he is from my home town and even lives around the corner from my old house. 'Jaz' was in very fine sprits and happy to chat, once I mentioned my home town of Cheltenham, it was like we knew each other for years. I can also tell you, that 'Killing Joke' are recording a new album at the moment to be released later in the year and 'Jaz' was also very proud to tell me that France have just Knighted him and that he was composing at the Paris Opera House. 'Jaz' invites me around for cup of tea before he has to endure a photo session. What a guy!

Sadly, we missed Heaven & Hell on the main stage, and it seemed like many others did too, the rain was just far too heavy for anyone to endure. Not many stayed for headliners Linkin Park either, who although are good live, I did find myself bored, so I started the slow long walk to the 'Bohemia Tent' to dry up before the mighty 'Thunder' play their final ever UK show.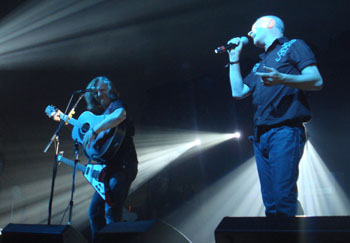 I have never seen Thunder live before and I am glad I did! They reined that stage in perfect harmony, on note, in time, in tune and they were happy too. The delight on their faces when the crowd took over the singing and front man Danny Bowes laughs when we try and keep up with the long notes, what a legend!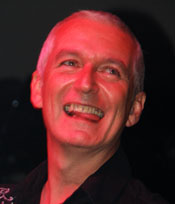 Due to us being in the photo pit, which is only allowed for 3 songs, we had to exit the tent only to find out that we couldn't get back in as it was so over crowded. This made me sad but glad 'Thunder'! I kept singing along to Thunder on the walk back to camp, those that got to see 'Thunder' stayed to watch the 'Wildhearts' too and they must of rocked, because we could hear it all back in camp, I wonder what the locals thought!

All in all, this festival was really good for the line up, even if quite a few changes to the line up occurred over the past few months. There were quite a few teething problems, but this is acceptable for the first year of any festival.

For those that didn't experience the Sunday at Sonisphere, you missed out on James Hetfield celebrating his birthday with custard cream pies, Machine Head tearing up the stage after pulling out weeks before, Limp Bizkit rocking it up in a true fashion and Nine Inch Nails last ever gig.

If you didn't make it, don't worry Sonisphere is back in 2010!

Review by Fluffmeister
Photos by Fluffmeister and Sean Larkin
---