Just witnessed your best live gig?.. send us a review!
Pontins, Prestatyn, North Wales 3-5 December 2009
Photos by Noel Buckley
After waking up with a Hard Rock Hell Hangover it was time for a few cups of tea followed by a pick me up of a good ole full English breakfast with all the trimmings, which did the trick followed by a quick shot of JD which put me back ready for action for another day of full hard rocking action. (Travelodge need to catch up -ed)
There was so many bands in the first half of the day that I wanted to see, there was no time to stop at all. In fact, so much so, that I was a good boy and didn't visit the bar until some six hours later, my friends thought they should call me a doctor. (But Dr Mark Taylor doesn't sound right does it?)
At midday Clovenhoof were due to perform their last ever gig in the Queen Vic pub, but after moving earth wind and fire pulled out at the last minute and Attica Rage took their place performing for the third time this weekend.
I was at Stage Two to see London heavy weights Pig Iron. A few days before the gig bassist Hugh Gilmour expressed reservations to me about going on so early, but he had nothing to worry about, as the hall was almost full. Their style of heavy harmonica blues went down very well, ending the set with the modern day classic of 'Lord Kill The Pain'. Pig Iron won themselves many new fans today.
Over at the Queen Vic Dumpy's Rusty Nuts were winning over a new generation with a well oiled set. The Glitterati were one of my most surprising acts of the week. For some reason I've ignored them over the last few years but they quickly got my notice with their sleazy catchy hooks and licks. Anybody into the glam rock punky scene should check them out, they deserve more.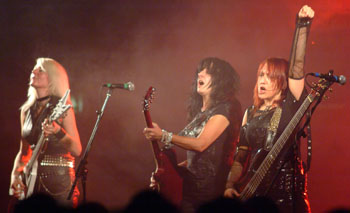 Girlschool are a band I've loved since their collaboration with Motorhead on 'Please Don't Touch' EP back in the early eighties, and over the years I've always enjoyed their set.
Girlschool are perfect fodder for HRH with their feel good factor of heavy metal. Today was one of their best performances I've ever witnessed. Coming on stage at 2pm, they set the day up perfectly. With their jovial interaction with the crowd, had me singing out of their palms.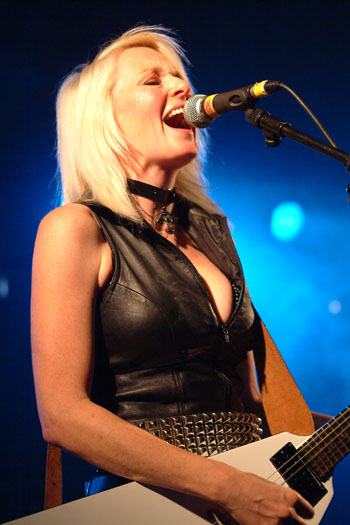 Newer tracks like 'I Spy' and 'Never Say Never' settled in nicely amongst the classics of old. Over thirty-five years ago in the the filming of 'Holiday On The Buses' here, Olive lost her bikini in the swimming pool, and today someone lost their pants as they were thrown on stage.
Kim McAuliffe placed them on Jackie Chambers' mic-stand. She didn't sing in that mic again. Girlschool are as traditional as beer and fish 'n chips and were the perfect ingredient. My band of the weekend.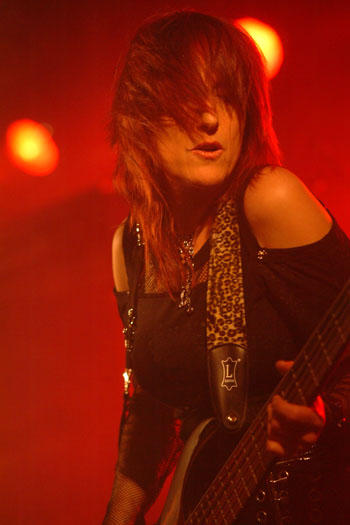 With a few minutes spare I sneaked off back to the Queen Vic to see old legends Marseille who were at the forefront of NWOBHM and who were rocking us tonight. I wish I could have seen more of them, but with Tigertailz about to start in the adjacent hall I was left walking on a high wire.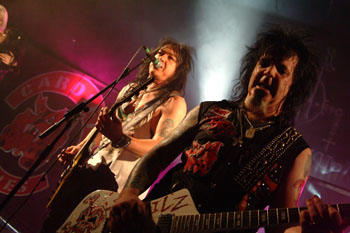 At last years HRH Tigertailz stole the the show with a show stopping performance in the early hours that left everybody for dead. Another fun rock 'n roll band that are perfect for holiday camp capers.
After the recent successful London Borderline show where they played the 'Berzerk' album in it's entirety, the 'Tailz thought they would repeat the same trick here. I didn't think it would work so early in the day but after the second song 'Love Bomb Baby' the show had been won. Another top winning performance.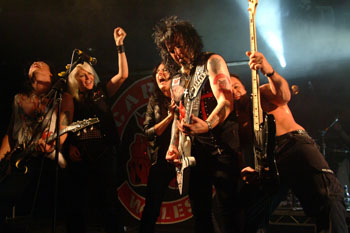 The best was yet to come when Kim Hooker invited a couple of gals from Girlschool to join them on stage for a metalized version of 'Ace Of Spades' with Kim McAuliffe delivering the line of 'That's the way I like it baby, I don't wanna live forever'. Fantastic.
I needed a beer, but there was no time as I really wanted to see another old NWOBHM band Saracen back in the Queen Vic. I only caught the last twenty minutes. This was a band that I remembered from a old Friday Rock Show session.Playing tracks from the classic LP 'Heroes Saints &Fools' ending with 'Crusader' this was the nearest thing to progressive rock with a metal twist you would've heard all weekend. Glorious stuff. Check them out.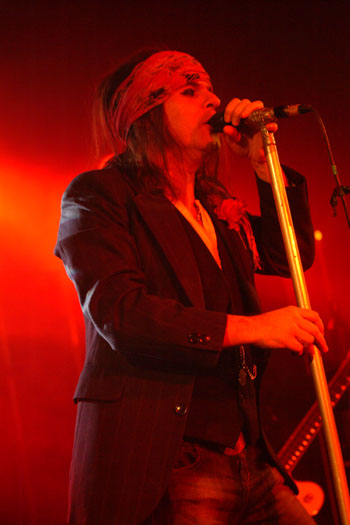 I was like a yo-yo all day, going back to see the Quireboys. A bit too early in the day for their brand of drinking good fun rock 'n roll. Would've been better suited to playing in the early hours like they did at the Cambridge Rock Festival, but at least it meant that Spike and the boys could get in early at the bar (which they did.), but a good time was had by all.
I caught the last minutes of Elixir who did a very good Maidenesque set, and also Witchfynde, a band I love with their no nonsense approach to metal, a band I've seen a few times but by this time I needed a breather, but they gave the crowd hell.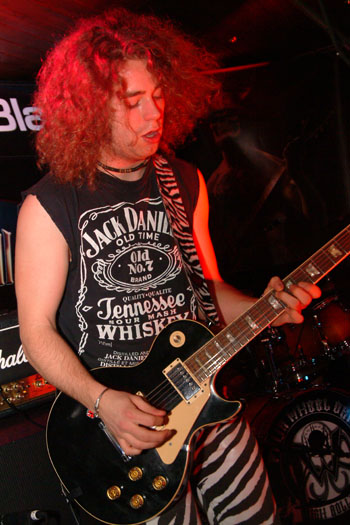 After the previous night's no show for Four Wheel Drive (See Day 2 report), the Twickenham boys were given a last minute slot at the Queen Vic, and I'm so glad they were.
It's not often that you've met the band, but not know the music and I was so surprised how a bunch of nice young lads could make such a great almighty racket. Coming across like a mix of Airbourne and the Georgia Satellites, this was a high octone mix of rock 'n roll at it's very best. These high rollers will not be running out of gasoline for a long time yet. Four Wheel Drive were in fifth gear and set to be in poll position.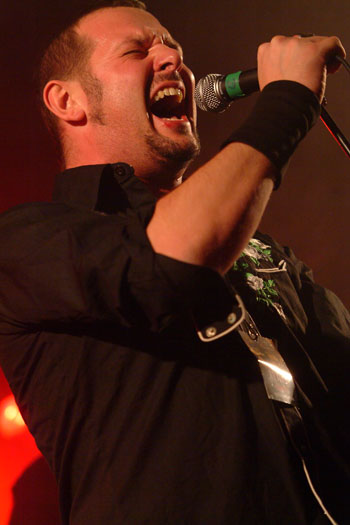 Angelwitch are a band reborn. Only mainman Kevin Heybourne remains from the original line up, but with a new backbone of a band giving Angelwitch a much more fuller sound.
The band were tight and brought the songs from the debut LP a new lease of life. The mosh pit exploded into life with the self titled anthem 'Angelwitch' with the very metal sing-a-long chorus of ''You're an angelwitch...you're an angelwitch'' metal lyrics at their finest.
Eight hours into the day and I was drained, my ears were ringing and I treated myself to a bottle of wine and a quick smoke outside. With only a rest of twenty minutes I came to my first proper full clash of the day.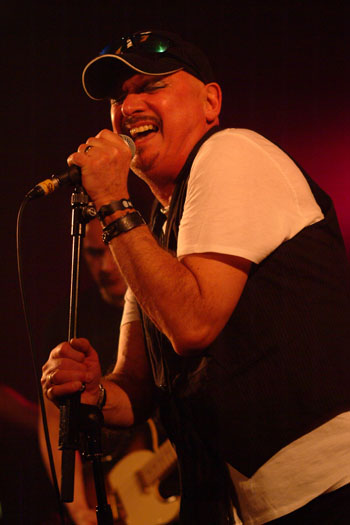 W.A.S.P were on the main stage but I've seen them many times before. It was another NWOBHM band that i really wanted to see for the first time. Demon were a band that rarely played in London and I owned those early classic albums, so whilst the majority of rockers went into the adjacent hall to see Blackie Lawless and Co, I stayed inside the Stage 2 area with a hundred or so fans to witness a great gig by the Midland band.
I wasn't disappointed either. Singer Dave Hill (No, not the Slade guy) is a charismatic frontman who breathes a storytelling life into the classic songs of 'The Plague' and set ender 'Don't Break The Circle'. The unexpected guests did one helluva gig. I only caught the tail end of W.A.S.P who were buzzing.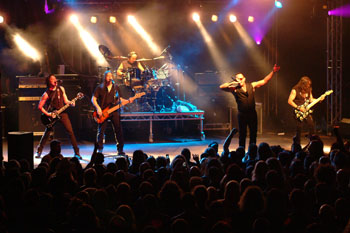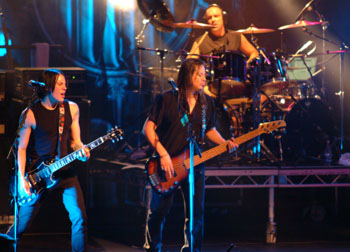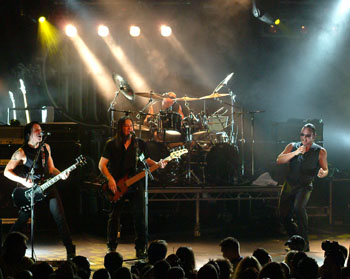 Queensryche were billed as the main headlining band of HRH, but I felt they were out of place here. The thinking man's metal was not the ideal situation for the zombie-fied brains of the hard rock hellers here today.
Having performed Operation Mindcrime parts I & II on the last tour, the band decided to completely abandon those albums this time around and just perform tracks from new album 'American Soldier' as well as 'Rage For Order' and 'Empire', making it a somewhat disjointed set, and I soon lost interest. Operation mindless.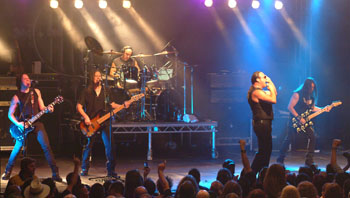 It was at this point my night completely fell apart. Sara Harding from Total Rock dragged me off to the media VIP bar and we joined Girlschool, members of Tigertailz, Pig Iron and Quireboys as well as other media types from Komodo Rock and Metal Hammer and demolished the bar toasting ourselves to a successful weekend.
Brahms 'n Lizst has a new meaning. Which meant I missed the New York Dolls (You can read my friend Jim Rowlands report here) and also Lauren Harris and Spit Like This, a band I spoke to earlier in the day who by all accounts went down very well in the early morning hours.
I've been to many great festivals over the years, the Knebworth Fair, Monsters Of Rock, Reading Festival, Wacken, even Rock In Rio, but Hard Rock Hell tops the lot. I made many great friends this weekend, the whole site has a feel good factor to it with security who know the meaning of common sense, please replace those hi-vis jackets with redcoats. Hard Rock Hell is the best. It's hard, it's rock and - after three solid days - it's hell.
Review by Mark Taylor
Photos by Noel Buckley
---
---