Just witnessed your best live gig?.. send us a review!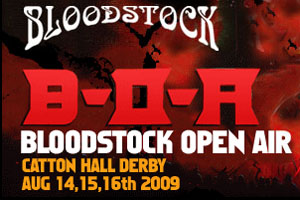 BLOODSTOCK (BOA), Catton Hall, Derbyshire
14-16 August 2009
Having been to last years BOA as a pure fan it was my privilege to come again but under the 'Press Umbrella' to give my opinion of the only full Metal festival in the UK at present.
So having finished work on the Thurs night I got onto my fully loaded motorbike and headed up to Catton Hall in Derbyshire to start the proceedings early, the sign posts to the site were perfect for such a small event and having booked in I parked my bike 20 yards from my TeePee (Perfect) - so after setting up I went in search of friends and to find out how the real half survive.
The steady stream of people coming into the event seemed well organised and the queues were moving at a reasonable pace.
Camp Sites
They had more camp sites this year - A, B, Quiet, VIP & Disabled/Press - I had a walk round all except VIP but knowing friends in that one I can say to start with that it was in totally the wrong place (Next to Camp A), it was noisy and they had things thrown over the fence onto their tents from A as well - not good when you have paid £100 more than other people.
Camps A & B had plenty of room around the tents and clear walkways, they also had food outlets open all hours and toilets as well. As for Disabled/Press, although to was quiet and had plenty of room - I feel the lack of water near the tents could have been avoided.

Main Arena
You can see a lot of thought has gone into the layout for this Festival and with three stages so close, it was set up perfectly. Including a good mix of Stalls. Merch and food outlets.
The main stage could be seen and heard even whilst at the beer tent nearby. During breaks in the Music the excellent 'Monster' roadshow came into swing with motorbikes in a large metal ball just missing each other whilst looping the loop.
The staff throughout the festival were very friendly and that in turn made the punters happy as well. All in all a very well turned out Fest with a very good atmosphere.

So onto the Music and after spending Thurs night with the awesome 4 DJ's of the apocalypse I woke up ready for action (Well almost!!), the Arena and surrounding area could have been cleaned better over night as there was rubbish everywhere but I headed over ready for the days entertainment!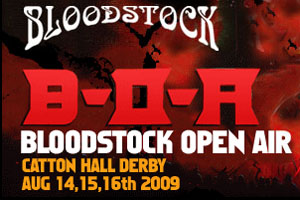 Friday 14 August

The first Band on Main Stage for the Friday were Blitzkrieg, formed in Leicester in October 1980 and consisting of Ken Johnson on Guitar, Brian Ross on Vocals, Guy Laverick on Guitar, Paul Brewis on Bass & Phil Brewis on Drums.
Well what can I say but that they burst onto the stage in a cloud of smoke and hangovers!! They soon brought the crowd alive with their own brand of NWOBHM. Unfortunetly they only had a short set to show us why BOA choose them to start this festival off and boy did they do it in style, with their no frills british metal.
They went through 'THE PHANTOM, DARK CITY, THEATRE OF THE DAMNED then onto their back to back tracks based on the TV show 'The Prisoner' namely 'MY LIFE IS MY OWN & ESCAPE FROM THE VILLAGE finishing off with the self titled 'BLITZKRIEG' The crowd and the battle was won as they made a field in the Derbyshire countryside their own. What a start to the weekend and for me they get ****

Another band I felt passionate enough to write about are DIE APOKALYPTISCHEN REITER (Horsemen Of The Apocalypse ) DIE APOKALYPTISCHEN REITER is Fuchs (vocals, guitar), Volk-Man (bass, vocals), Dr. Pest (keys), Sir.G (drums) and Ady (guitar) and it was with some trepidation that I stood watching them whilst chatting to friends! The chat didn't last long as I was impressed to say the least with their performance.
Although the vision of Dr Pest running around stage looking like an extra from a porno film to some getting used too - even with his swing on stage as well!! As for the music - with their unique combination of power and melodies, bittersweet lyrics and a breathtaking, outstanding live performance, this band is definitely in a class of their own.
This is the band's second UK appearance and they shone like a beacon out onto the Crowd, literally whipping up a storm and showing that there is more to them than meets the eye!!
The sound and commitment was awesome as they went through their set, bringing the crowd into their power, they culminated their performance by sending a girl previously plucked from the crowd to be song too - out into the masses on a yellow rubber boat - the funniest thing is that she told the crowd to turn her to the right and they did - Metal or what!!!! ****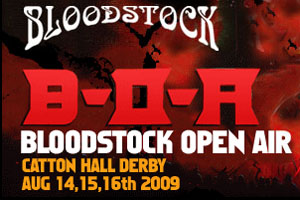 Saturday 15 August

So to the Saturday and having woke up to a light drizzle & dark clouds (Made worse by the dark glasses!) I was pleasantly surprised that this morning the Main Arena was spotless having been cleaned over night.
It was quite funny to see everyone in a daze looking for breakfast, there were a few stalls open and security were in a good mood too!
First on stage for the Saturday was the bizarre Uncle Rotter both in look and music, consisting of the aptly named - UNCLE ROTTER (Lead Vocals, Samples and Songwriter), GENERAL SLAVE (Lead Guitar), TWIGGY BANG BANG (Lead Guitar), VENOM ROTTER (Rhythm Guitar), DR T (MD) (Bass Guitar) and lastly RAMIREZ ROTTER on Drums!!
They are best described by themselves as 'The Kings of Thuggish Cartoon Disco Metal'. Well they certainly woke the crowd up and the lyrics (Which I can't repeat were inventive, funny and downright rude) Musically they rocked my boat and were another fitting start to the days proceedings. ****

Later in the day I went over to the Unsigned Stage to check out Switchblade Scream, there was a good crowd forming - always a good sign.
Now I have never heard of the band although I love watching bands on the unsigned as it's the future of our music, so I didn't know what to expect. I was very surprised and pleased with what I heard.
The band consist of Matt Dorian on vocals, Alan Douglas on guitar/backing vocals, Steve Scott on Drums and the two founder members Stuart McLeod on bass and Gary Law on guitar hail from Glasgow and have only been about since 2007!
The lead Singer Matt had the voice and the presence of a veteran performer and that along with the tight guitar riffs and excellent drumming - made for a very good mix. This was good classic rock mixed with just about everything as the guys enjoyed their first taste of the big time.
The quality of the band was self evident and they act as though they have experience far beyond their years. The crowd was rockin from one track to the next and they even had a circle pit going in this smaller tent. At the end of the set the crowd erupted with applause for an excellent band with a great future - one to watch ****
APOCALYPTICA

Heavy metal without guitars; surely not? Metallica covers without a vocalist; impossible? Apocalyptica must have missed the opening day of their 'Metal 101' college course, but it doesn't seem to bother them, or the legions of fans they have steadily been recruiting over the past 14 years.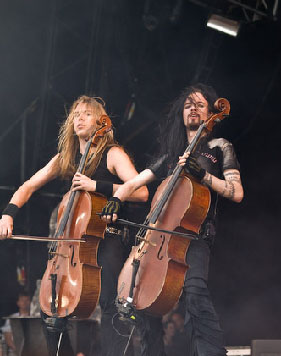 For the uninitiated in the ways of this Finnish quartet, they consist of a drummer and 3 cellists, and play a mix of their own songs, classical pieces and cover songs (mostly Metallica). The end result is nothing short of spectacular, aided by their energetic on-stage performance.

The set today comprises their own songs, mainly from their most recent release 'Worlds Collide', covers of 'One', 'Wherever I Roam', 'Enter Sandman' & 'For Whom The Bell Tolls' amongst others, and is completed by "some boring classical sh*t" - which turns out to be an excellent rendition of the very un-boring 'Hall Of The Mountain King' by Edvard Grieg. All superbly executed by these musical maestros - they really have to be seen to believed, and your metal education is not complete until you have done so!

BLIND GUARDIAN

Off to a land inhabited by fantasy creatures, to be regaled by bards recounting great stories of heroic deeds… it must be Blind Guardian! The German masters of fantasy metal rarely visit these shores, and it is a great pleasure when they do. The supreme bard, Hansi Kursch, leads the line as they march through a true festival set. Almost the entire 20+ year back catalogue of albums gets a visit at some point.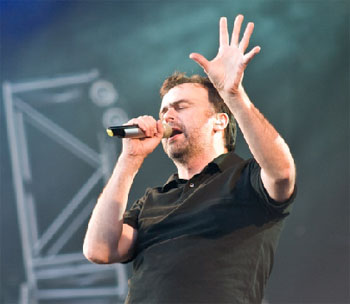 They open with 'Time Stands Still (At The Iron Hill)' from the 1998 'Nightfall In Middle Earth" album (that title should give you a clue of what they are about). The 1995 release "Imaginations From The Other Side" is particularly well represented with 3 songs in the set - the title track, 'Another Holy War', and 'The Script From My Requiem'. More recent songs include 'Learning To Fly' from the 2006 CD 'A Twist In The Myth', and 'This World Is Sacred' - their most recent recording made specially for a video game (and performed by a fully 3D modelled band in an in-game concert).

No Blind Guardian set would be complete, of course, without the Nordic call to arms 'Valhalla', the tale of 'The Lord Of The Rings', or the acoustic camp fire sing-along that is "The Bard's Song" - which closes an excellent set of some of the finest crafted metal you can ever hear. No time for the 14 minute epic 'And Then There Was Silence' unfortunately… If only they could find a way to get more gigs in the UK.

Review and photos by Ian Pollard

Towards the evening I decided to check out the performance of Blind Guardian on the Main Stage, as I hadn't heard anything by them and seeing as my mate Jez was sporting one of their tour T-Shirts I realised that I could be in for a treat but what I wasn't prepared for was the awesome set from the guys from Germany namely Hansi Kursch - vocals, Marcus Siepen - guitar, Andre Olbrich - guitar, Frederik Ehmke - drums.
Now this isn't a band that runs around the stage as they were all standing by their mic's except for Hansi, but this didn't lessen their impact at all. Visually and vocally they are top drawer.
They moved with ease from one track to the next with the crowd singing along almost anthem like with raised hands and raised voices showing what a following this band have and from now on you can add another one to the list - I was hooked.
The guitar riffs along with the harmonies and lead vocals were immense and to me this was the headline band of the day, they culminated their performance with a rendition of the famous (So I am told) The Bard's Song (In The Forest) and finally Mirror, Mirror. All I can say is that if you don't know them then check them out *****
Well what a day Saturday has been with blinding performances on all three stages with the crowd in such a good mood that you wished this Fest could last forever. For me the highlights of the day were Uncle Rotter, Wolf & Blind Guardian.
I didn't catch the problems during the 'Cradle of Filth' performance which was abruptly cut short when a missile struck guitarist Paul Allender who was reportedly knocked unconscious but it turns out that the object was a large (Cricket Ball size) gobstopper bought along with 5 others from a stall earlier on.
BOA staff were quick to withdraw them from sale and Security was heightened to make sure it didn't happen again. To 'Cradles' credit they finished the song with a band member on the floor and then left the stage. When the stage was cleared 4 more gobstoppers were found - One idiot ruining it for the masses, unfortunately thus far he hasn't been caught!!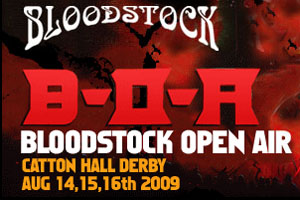 Sunday 16 August
Right then back to the music and the first band on the Main Stage Beholder. Well what can I say!!! I know these guys from the club & pub circuit and from other Fests and it was good to see them perform on the Main Stage at such a prestigious festival.
They are Simon Hall (Vocals), Si Fielding (Bass & Vocals), Chris Bentley (Drums), Simon Cliffe (Guitar & Vocals) & Martyn Blackwell (Guitar & Vocals) . From the outset of this performance they owned the stage and with Simon Hall prowling up & down like a caged animal, the guitarists pounding out the riffs ably assisted by Chris on Drums (Who was awesome), bringing the crowd awake at such an early hour.
The sheer energy that this band pushes out had even more people running over to see what they were missing. The whole crowd got behind them and all Simon Hall could do during the performance was to have a beaming smile from ear to ear along with the whole band - this was an appearance to be proud of and one that will live in their memory for a very long time.
The whole band were literally awesome and as they completed their set with the Sophie Lancaster tribute 'NEVER TAKE US (DOWN)' they were as one with the crowd (I must admit that every time I hear them play it I have a tear in my eye). This band are going a long way in the business and in my opinion it is well deserved. 5/5.

I again decided to go over to the Unsigned Stage to check out another young band TRIAXIS and seeing as the only reason I went to see them is because a friend uses their name on the internet - I was totally in awe of what was one of the best unsigned performances of the weekend.
The band consists of Krissie on Vocals, Gio on Lead Guitar, CJ on Rhythm Guitar, Owen on Bass Guitar & Giles on Drums. You could see they were having the time of their lives and Gio on Lead was truly awesome whilst strutting his stuff with the ease of a seasoned professional.
The riffs he delivered were pure genius and if this band doesn't make it, I am sure he will!! As for the band as a whole, they were classy and delvered a powerful sound far beyond their years.
Krissie had a powerful 'air' about her whilst belting out track after track of good hard Metal tunes. They have an EP out at the moment and are shortly to be releasing their debut album - I kid you not….go out and get it as they Rock!!! *****

Well to sum up this was yet again a very well run, friendly and enjoyable festival and I look forward to seeing their first announcement for 2010 on Aug 21.

Review by The Unforgiven (Dave Morris)
Additional reporting: Ian Pollard
Photo Gallery by Ian Pollard
---
>> Bloodstock extras
---