ZZ TOP Live From Texas Eagle EAGCD 393 (2008)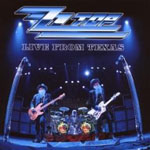 'Live From Texas' is a curious effort by the loveable Texas Boogie merchants ZZ Top. For what turns out to be a career reprise in front of their fervent Texas fans is something of a damp squib until the trio finally move into their hit mode. Only then do both the band and crowd really seem to make something of a connection.
Up to that point everything is solid enough from the opening classic 'Got Me Under Pressure' to the lumbering blues of 'Jesus Just Left Chicago'. If anything the vocals are little better than poor from the outset with Billy G sounding like he's singing from memory while Dusty Hill is barely more than adequate. And no matter how much the chummy liner notes make their play at the band having paid their dues etc, there's an early feel of going through the motions.
Indeed the classic B side 'Cheap Sunglasses' is delivered in such a deadpan fashion that it is almost totally bereft of the humour and feel that made it so unique, while 'Rough Boy' remains the kind of insipid ballad that spelled the end of the Top's cutting edge, if not their commercial success.
Perhaps we are all just a tad too familiar with this set and with little or no surprises it's all a bit staid. But just as you're thinking these guys could do with a double shot of JD and smaller, intimate surroundings, they pull things out the fire with a playful blues interlude and then three big hitters of which almost inevitably 'Sharp Dressed Man' is the highlight.
Finally the band's raw edge seeps back into the proceedings after a mesmerising 'Legs' and the sing-a-long, rough at the edges 'Tube Snake Boogie'. And by the time of the closing brace comprising the low down boogie 'La Grange' and 'Tush', you just about remember it was the trio's ability to ally their boogie rock and blues with a raft of killer choruses and steely riffs that put them ahead of a thousand and one other boogie bands.
Of course the irony that has long confronted ZZ Top and many similar successful bands before them is that they have long since left behind the bar-room boogie one night stands and have long since settled for the post video world of stadiums and arenas. The result is that while the mass sing-along efforts can still being a smile and a nod of the head to long time fans, it is doubtful they will be rushing out in their droves to purchase this gentle meander through 16 odd tracks they probably already have in triplicate.
***
Review by Pete Feenstra
---
| | |
| --- | --- |
| | Print this page in printer-friendly format |
| | Tell a friend about this page |