WILLIAM ORBIT Strange Cargo 2
IRS 7243 5 26378 2 9 (2008)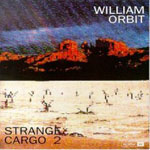 Recorded back in 1990 William Orbit's 'Strange Cargo 2' was his third solo album and undoubtedly meant different things to different people. Often referred to as being in the vanguard of 'chill out' music, Orbit recorded this album when labels such as Windham Hill and Private did much to advance the profile of electronic and synth led music.
'Strange Cargo 2' nicely crosses the ambient/synth divide and at the time was remarkable for its sense of clarity, presence and impressed with its abundance of uncluttered musical textures. 18 years on however, it sounds a little less challenging and dare I say it MOR.
There are some lovely little soundscapes most notably with the eastern sounding horns and funky dance groove of 'Atom Dream' which employs a clever funky synth pattern over tables processed voice, while '777' offers a similarly delicate use of percussion and a vaguely Arabic style vocal chant.
But if anything this album flatters to deceive, too often setting up some grooves or exploring interesting sounds without any sense of progression. On the acoustic guitar and flute led theme of 'Dia Del Muerto' William borrows his dub sound from Adrian Sherwood's On-You Sound artists African Head Charge, but unlike the music of that interesting outfit the piece doesn't develop, being content to drift along until the introduction of a lovely combination of acoustic guitar and trumpet around the 3minute fifty five mark. But rather than acting as a catalyst for a new direction the delicate musical blend leads into the outro.
The challenge for synth pioneers is to compose something that brings life and emotion to the familiar sounds offered by instrument. This album merely hints at the possibilities. Since recording 'Strange Cargo 2' William Orbit has become a heavyweight producer (think Madonna and Blur) but 'Strange Cargo 2' finds him dipping his toes into a lore experimental vein, but it's a dip rather than a plunge and as such is pleasant outing rather than an imperative purchase.
****
Review by Pete Feenstra
---
| | |
| --- | --- |
| | Print this page in printer-friendly format |
| | Tell a friend about this page |