WILD T & THE SPIRIT Fender Bender Jazzhaus JHR 013 (2008)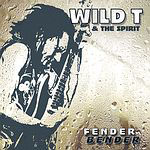 Wild T & The Spirit come as something of a pleasant surprise. For having expected some over-cooked post Hendrix fare, 'Fender Bender' offers a surprising depth of variety to the material as well as some fine singing and above all a real band album topped by Tony 'Wild T' Springer's excellent guitar playing.
There is of course a core Hendrix vibe to the whole project, but it's the way 'Wild T' searches out new ways to lend expression to his playing that is impressive.
In many respects the title of the album 'Fender Bender' is a tad misleading. For while guitar fans will enjoy the various inspired guitar workouts, there are enough strong songs here to set the band ahead of most of their contemporaries.
The story of 'Wild T' is that of a Trinidadian native Tony Springer who has made a name for himself in his adopted Canada and who aside from being championed by Jeff Healey now finds himself signed to the prestigious German Jazzhaus label. Throw in recorded appearances for the likes of Davis Bowie and you quickly realise this is a guitarist of some substance. But perhaps the biggest accolade that can be extended to this album is that 'Wild T' stamps his own personality on proceedings.
'Fender Bender' is nicely topped and tailed by impressive two guitar led instrumentals and the remaining eleven tracks consist of strong self penned songs and well chosen covers. Of the original material there's an undoubted Hendrix feel to 'The Best I Can Do' - complete with a sinewy guitar solo and plenty of wah wah - and there's an acoustic guitar/piano break down and a strong melody line on the impressive 'Life Goes On'. 'T' then goes on to explore some low down blues on 'Finders Keepers'.
Perhaps the two contrasting ends of his expansive style are best exemplified by the juxtaposition of the lovely mellifluous groove of 'Keepin' It Real' with the altogether brasher psychedelic wah wah of 'The Hard Way'. Musically the latter comes close to the muscular playing of Eric Gales and is one of the few occasions on which 'T' slips into lyrical cliché, as in 'drinking whisky on the bad part of town'. 'T' also adds some Albert King style licks on a cover of 'I'll Play The Blues For You' and the band works up a fine groove on Rick Estrin's humorous and well chosen 'My Next Ex-Wife'.
Overall the material is strong and refreshing and the band is anchored by the well marshalled rhythm section of Guenther Kapolei on sumptuous bass and the deft touch of Chris Lesso on drums. 'Fender Bender' is a good album and for those of you as yet unaware of Wild T & The Spirit', a fine introduction to a cracking band.
****
Review by Pete Feenstra
---
| | |
| --- | --- |
| | Print this page in printer-friendly format |
| | Tell a friend about this page |
***** Out of this world | **** Pretty damn fine |
*** OK, approach with caution unless you are a fan |
** Instant bargain bin fodder | * Ugly. Just ugly
get ready to rock is a division of hotdigitsnewmedia group