WEB i Spider Esoteric (2008)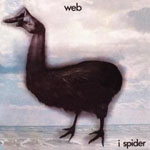 The words 'lost progressive classic' when applied to an album that has (beyond scrappy boots) not darkened the music room's door in decades are guaranteed to instill foreboding.
Yet, this highly original, beautifully played record almost merits the accolade. Released by Polydor Records in 1970 to the thudding of jaws hitting table tops, 'I Spider' does owe something in its footings to the likes of Gentle Giant, King Crimson and, in its interplay of sqwawking sax and grand guignol organ, early Van der Graaf Generator.
But it transcends mere emulation in ambitiously industrial structures, solo showcasing of sincerity and dexterity, and even a deft seque from prog to modern British jazz with vibraphone player Lennie Wright and Tom Harris on sax and flute imbuing Web with the sensibilities of Ardley and Mike Taylor - jazz's Syd Barrett.
Keyboard player and writer Dave Lawson was to move soon to surer prospects in the commercially successful Greenslade. Its sound, by way of Lawson's next band Samurai (whose eponymous and inferior album is also out on Esoteric), can be traced to 'I Spider'.
Re-mastered from the original tapes, two bonus tracks recorded live in Sweden in 1971, previously unseen photographs, an interview with Lawson - this reissue package is a bold assertion that music as rounded and dramatic in execution should not be confined to the ether of download, no matter how obscure. This is to be touched and kept.
****
Review by Peter Muir
---
| | |
| --- | --- |
| | Print this page in printer-friendly format |
| | Tell a friend about this page |