Just witnessed your best live gig?..send us a review!
VOODOO SIX
Bradford Gasworks, 18 April 2008
Hot on the heels of impressive reviews for their re-mixed, re-released debut album "First Hit For Free", Voodoo Six are embarking on a busy touring schedule where they will travel up, down, and across the country a few times over the next 6 weeks. Later in support of Blaze Bayley, but for now warming things up for the Tygers Of Pan Tang.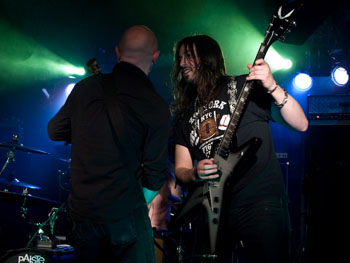 This band has all the right ingredients to make an impact in 2008; talent, charisma, cracking songs, and the willingness to put in the hard work required. Right from the off it is 100% effort focused on converting new fans and getting the all important word-of-mouth endorsements. Having a charismatic, flamboyant front man such as Henry Rundell doesn't hurt, and when that charisma is supplemented by the set of vocal chords he has… success cannot be far away!

It doesn't stop there, the guitar work of Chris Jones and Matt Pearce is exemplary - solid riffing throughout interspersed with alternating solos. Tony Newton on bass and Grav on the stool provide the underpinning rhythm section that includes some downright dirty bass licks that do their best to rip your body to pieces.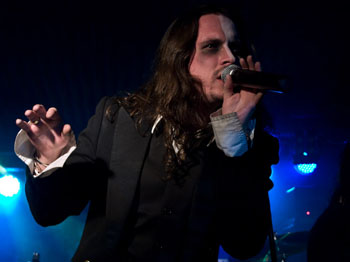 As a whole, the band interact well on stage, with main man Henry (complete with make-up reminiscent of early Marillion / Pallas appearances) taking the central role without detracting from, or dominating the rest of proceedings. He even ventured off into the bar area mid-song to try and encourage some of the less enthusiastic punters to join in.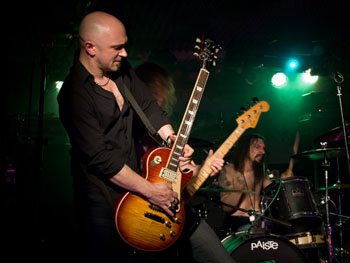 The music itself is twin-lead guitar driven heavy rock in the classic style, but with more modern elements included. Current single "Faith" is a riff-tastic classic in the making, but my personal favourite both live and on the album is "No Friend Of Mine", which allows Henry to fully demonstrate his vocal capability. But don't listen to me… listen to V6 - buy the CD and get out to one of the shows, you won't be disappointed.

If there is any justice in the music business world today, then the next time V6 are on tour they will be the top billing (hopefully towards the end of 2008). They could just be the band to herald the beginning of the new, new wave of British heavy metal.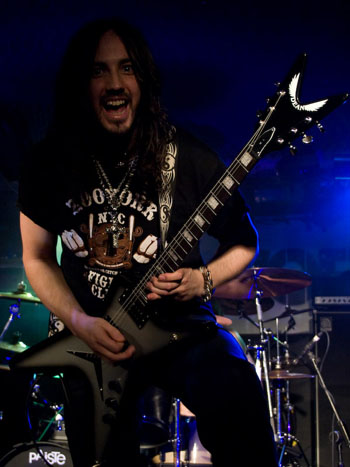 Review and photos by Ian Pollard
Interview (GRTR! Radio 24.04.08)
---
| | |
| --- | --- |
| | Print this page in printer-friendly format |
| | Tell a friend about this page |