VINCENT VINCENT AND THE VILLAINS Gospel Bombs EMI (2008)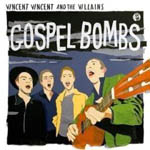 Unashamedly retro in a British 50's rock & roll meets skiffle tradition, Vincent Vincent & The Villains offer a contemporary twist on an old musical format. Strong vocally, slick in the rhythm department, and backed by a solid percussive undertow that would fuel any rockabilly band, VV & V are the band of the moment.
Much like James Hunter in his previous incarnation as Howlin' Wilf, Vincent Vincent takes the past and moulds it into the present via some unlikely narratives and sheer musical drive. Coming at you like a cartoon sprung to life, this is post rockabilly for a trendy Camden/studenty audience who like their retro music served up with a dollop of humour.
Had they arrived on the scene over a decade ago they may well have been chasing gigs on the retro blues/Rock & Roll circuit, but there's more to their barbershop harmonies as than meets the eye. 'Blue Boy' for example on which guitarist Tom Bailey works up a chunky rhythm is the kind of song that had it co me from Frank Zappa (a great lover of doowop) it would be seen as a cross between parody and cool. But with Vincent, there an undoubted reverence for their musical roots even if their lyrics are sometime border on the satirical.
There's an undoubted arty feel to the music, similar in style to say early Roxy Music's early kitsch efforts, but here there's a greater reliance on stronger narratives and sing-along choruses. The finger popping and bass rumble of 'On My Own' for example, underpins a strong vocal opening before a machine gun rockabilly avalanche makes the song catchy enough for the radio. And just when you think you've nailed their style down, Vincent and band come up with the wonderfully dramatic 'Cinema' which tells the tale of the 'nicotine dependent, cinema attendant, and I work for very little pay' (with the emphasis on an elongated vowel sound).
You just know that there are more than a few quiff laden arty types who will lap this up, right down to the sympathet ic backing vocals. And what so far hints at the band's growing potential transforms into a racing certainty on 'Killing Time' with its humorous narrative over a calypso sounding back beat.
They follow that with 'Pretty Girl' which could easily be another possible single release, with its up tempo guitar and insistent back beat shuffle and OTT vocal performance. It's back to the unashamed retro vocal harmonies on 'Sweet Girlfriend', complete with hackneyed lyrics as sugary as the harmonies.
But in an age of the slick video and at a time when even the majors are using the likes of YouTube to help break a new band, Vincent Vincent & the Villains have enough spark, and dazzle to find a niche just in front of the retro scene and just left field enough to interest the arts school crowd.
If there's a down side it is that much of the material works the same source relentlessly and only occasionally in different ways, with only the big guitar and animated vocal performance on the hard hitting 'Telephone' offering something different.
Imagine the raw power of George Thorogood in the blues world, the lyrical originality of James Hunter, and the rockabilly credentials of The Stray Cats - albeit with a particular English twist. Add a vocalist whose delivery milks every moment of angst for what its worth and you have an interesting bunch of newcomers whose closing lament, 'End of the Night' is the perfect finish to an album full of stirring originality.
****
Review by Pete Feenstra
---
| | |
| --- | --- |
| | Print this page in printer-friendly format |
| | Tell a friend about this page |