VAN DER GRAAF GENERATOR Trisector Virgin (2008)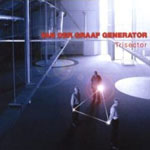 And then there were three ... The departure of of horn player David Jackson from the latest recorded convention by this veteran progressive act is commemorated in the title ('a dividing into three equal parts') but thereafter it's business as usual.
As with the previous Jackson exit of the late 70s, the band simply adjusts tack. There's a return to shorter (well, short them for them) running times and more conventional structures against the improv blow-outs of yore.
Compositionally emotions still run high but within a tighter framework dominated by keyboards from Peter Hammill (also on guitar) and Hugh Banton, herded, pushed and prodded by Guy Evans' beautifully flexible drumming.
An amusing opener in instrumental 'The Hurlyburly' (not out of place filling up to the 'top of the hour' on a '70s pirate ship) is a red herring as the album grows with a mix of tricky trademark punch and pith on the likes of 'Interference Patterns' and 'Drop Dead', soothed by the more contemplative 'The Final Reel' and 'Lifetime', building to a senior moment in 'Over The Hill', which at nearly 13 minutes reels in and smacks the faces of gainsays averring the loss of Jackson as terminal to the VdGG career path.
Hammill is quoted: "We intend to carry on as long as the work leads us, as and whenever the work needs us. We don't want to know when the last show will be." A gleaming affirmation of the power of creative constancy and sheer bloody-mindedness, 'Trisector' is funny, serious, self-knowing and more than adequate reward for follower and newcomer alike.
****
Review by Peter Muir
---
| | |
| --- | --- |
| | Print this page in printer-friendly format |
| | Tell a friend about this page |