ULTRAVOX Vienna/Rage In Eden
EMI (2008)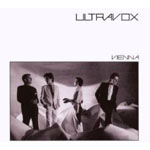 The album Vienna saw a radical change in the band's style and sound, from art rockers to a more pop orientated electronic band after Midge Ure joined replacing John Foxx. This reissue has the original album on disc one, of which the hit single 'Vienna' is a doubtless highlight with the haunting keys and violin solos still sounding great today.
Elsewhere 'Sleepwalk' with its repetitive chorus works well, 'All Stood Still' is a classic electronic pop song and synth filled 'New Europeans' keeps the bands art rock creditanials firmly in place. But the album does have a few below par songs such as 'Astradyne'. The bonus disc adds live versions of the 'Vienna' tracks (with some previously unreleased such as 'Sleepwalk') plus B-sides including 'Waiting' a very enjoyable song.
Live the band manages to successfully recreate all the studio effects and synths although Warren Cann's drums obviously have a more live and fuller feel/sound. ***½
Rage In Eden is another hit and miss affair with classics like 'The Voice', the title track and 'The Thin Wall' all showing the band at the peak of their powers. But 'Accent On Youth' and 'The Ascent' were never great songs to my ears when I first got this album and they haven't grown on me either over time!
However the bonus disc reveals some treats including the B-side 'I Never Wanted To Begin' which is good enough to be on the album. More live versions on this CD than the 'Vienna' CD and all have good sound quality plus show what a good band they were in the live arena. ***½ (**** for the second disc)
Both albums show the band mixing their art rock leanings with a more straight ahead pop vibe which was to prove so successful for them on their mid-late 80's albums like 'Lament'. Fans will have seen these albums re-issued before but this time you get unreleased live songs plus further remastering making them another 'must have' for collectors/fans. If you want a good starting point into the band try 'Rage In Eden', 'Lament' and a 'Best Of' but whatever you do don't get their 'U-Vox' album - not good at all.
****½
Review by Jason Ritchie
---
| | |
| --- | --- |
| | Print this page in printer-friendly format |
| | Tell a friend about this page |
***** Out of this world | **** Pretty damn fine |
*** OK, approach with caution unless you are a fan |
** Instant bargain bin fodder | * Ugly. Just ugly
get ready to rock is a division of hotdigitsnewmedia group