ULI JON ROTH Under A Dark Sky SPV (2008)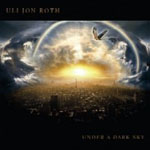 The former Scorp and most fluid 7 string guitar you'll ever here continues with his classical direction.
In that direction, Uli's band Sky Of Avalon feature a range of vocalists (tenor, baritone, alto etc) with lead vocalist Mark Boals taking on many of the harmonies.
Add to that the Sky Orchestra and Sky Choir and you get a full sound.
Tracks range from 1 to 18 minutes, this is truly a rock opera, the orchestra and rock band blending well, the rock vocals and choir matching too. And amongst all this there is Uli's guitar, with some the most sublime, fast, smooth soloing you'll ever hear.
"Letter Of The Law" features all these angles well, blending rock and orchestra equally, with touches of the melodic operatic speed metal a la Freedom Call / Rhapsody Of Fire.
Some of the earlier tracks are more orchestral and lose the band. Can't name the tracks as press release and promo CD have different track listings.
"Light And Shadows" does nod at the medieval folk that Blackmore's Night are undertaking, but the fuller band sound with the orchestra does add a different angle. Roth's guitar matches or betters anything Blackmore does in a similar set up, but then it should do, it is his band.
The album closes with the 18 minute "Tanz In Die Dammerung", opening with some funky guitar before the guitar and strings interplay an intriguing dual.
You do need to know what to expect with this album, but if it's your bag, you'll like it. Good, but not quite in the same league of Roth's earlier orchestral work.
****
Review by Joe Geesin
---
| | |
| --- | --- |
| | Print this page in printer-friendly format |
| | Tell a friend about this page |