UFO release becomes historical artefact...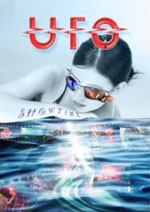 I don't want to appear a bore (or is that a boar?), but I have to kick off this review with a technical point. That is, the same week this HD DVD lands on my desk, the death of the format is announced. So something of great interest to fans (trust me it is, more on that later), there are very limited selling points as those without a HD DVD drive already are hardly likely to invest in one; enormous cost, a limit on future titles (like a complete stop) and, despite the manufacturers best efforts, obvious limited technical support once the hardware is no longer available. Those old enough to remember the VHS vs Betamax war (as I'm sure most UFO fans are) will know all about this.
Anyway, if you have access to a machine, or are (un)lucky enough to own one, read on. Oh the efforts I had to go through to watch this!!!!
This set was recorded in 2005 when UFO had a superb and very strong line-up. Having seen them twice before I can testify how good they are live before we get to this stunning set.
With original members Phil Mogg, Paul Raymond and Pete Way the band are augmented by guitarist Vinnie Moore and drummer Jason Bonham.
Anyone who's ever seen the band live or read a live report will be acquainted with classics such as "Rock Bottom", "Lights Out", "Too Hot To Handle", "Doctor Doctor" and "Shoot Shoot" which fill the 90 minute set alongside the likes of "Fighting Man", "The Wild One" and "The Kidds". The band are on form, a thoroughly enjoyable set.
Nearly two hours of bonuses include 6 studio tracks, a making of the DVD, interviews and more. The disc also comes with a nicely annotated booklet, which is more than most DVDs do.
Aside from the aural pleasure, where UFO have more often than not been spot on, the question is do you want the visuals in high definition; even with a HD DVD player, you still need the screen and speakers to make the most of it.
A little too much, or unfortunate timing. I think a bit of both.
****
Review by Joe Geesin