Lack-lustre and laid-back Traffic jam...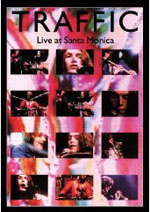 What once might have sounded heavenly 36 years on now sounds less than essential. Traffic often sounded like their Midlands counterparts Family without the violent presence of Roger Chapman. They made up for this with some solid jamming, the energy of Jim Capaldi and the instrumental brilliance of Steve Winwwod. But even with Rebob's vibrant percussion and Chris Wood imaginative doubling on sax and flute much of this set belongs to an era of stone hippies sitting on the floor, grooving along to a series of meandering jams by a band on the wane. Even the usually exuberant Jim Capaldi seems strangely muted, (perhaps blissfully stoned) on his self penned 'Light Up or leave Me Alone', a title that given the overall feel of this gig is almost ironic!
The overall sluggish tempo that underpins most of the material here is immediately in evidence on the laid back opener 'The Low Spark of High Heeled Boys'. In many ways it's an archetypal Traffic song to open with but once the band hit the groove they don't diverge much from it during the course of this hour long DVD.
Indeed aside from the folky 'John Barleycorn' on which Capaldi and Winwood harmonise splendidly the whole thing is far too laid back; On the instrumental 'Glad' on which Winwood tinkers on his Hammond, the producer actually decides to utilise trippy visual images possibly in an attempt to take your mind of the ennui on stage.
And what should be a climax to the evening with 'Forty Thousand Headman' and 'Dear Mr Fantasy' is more of a release than a celebration. Deadheads might love this, but I suspect Traffic fans although rejoicing in some fine playing from the band, might wish to search out more exciting clips than this.
***
Review by Pete Feenstra