TONY MILLS Vital Designs Phoenix Music (2008)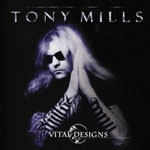 TNT vocalist Tony Mills (ex-Shy) releases his new solo album which features various members of Shy and TNT helping out musically along with Eric Ragno on keys. The 'find' on this album is guitarist Neil Gibbs, who co-writes the songs as well.
Overall this sees Mills mine his Geoff Tate style vocals as featured on the Siam album he did a few years ago. The title track and 'Say It One More Time' really do sound like Geoff Tate on vocals! 'A Conspiracy' is a cracking hard rock tune with a menacing lyric and very simple but catchy chrous. There is even a cover version, 'Miles From Nowhere' by Cat Stevens which although good may have been better later in the album as it book ended by two very heavy tunes.
The quality dips slightly with 'Tears In Lisbon' and 'Action' - both fine but lacking any real killer iff or chorus. The ballad 'Sunniva' brings it back on track and 'Glory Days' rounds the album off nicely, allowing Neil Gibbs to strut his stuff with a couple of whizzy solos.
Certainly one of Tony Mills better solo efforts - I was never taken by Siam personally - worth getting and for those finding out about him through TNT this will show the other side of his music. That is to say more metal, higher ranged vocals but still with big melodies.
****
Review by Jason Ritchie
Interview
---
| | |
| --- | --- |
| | Print this page in printer-friendly format |
| | Tell a friend about this page |