TO-MERA Delusions Candlelight (2008)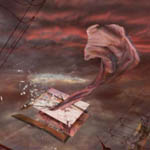 If you are a London resident and you attend half as many gigs as I do on a monthly basis then the name To-Mera should be quite familiar to you. Throughout its relatively short career, this South Oxfordshire-based Progressive Metal quintet has been lucky enough to open shows for some really important bands, such as Dream Theater, Emperor and Fates Warning, thus becoming better known to a wider audience.
It was during one of these shows that I was first introduced to the band's challenging music and added them to my long list of 'bands to look out for'.
Many months had passed since I last saw the band and not owning their debut release "Transcendental", I didn't really know what I was to expect from their latest effort "Delusions" - an eight track promo which quite recently found its way to my doorstep. The one thing I did remember, though, was how clearly influenced these guys were by the music of Dream Theater and Opeth and being a huge fan of both the previously-mentioned bands, this provided me with enough motivation to pay attention to this album. The result was indeed quite rewarding.
For a relatively young band, To-Mera are quite a brave outfit seeing as, with the exception of "Asylum", the average length of each composition of this album is eight minutes. Having said that, it is with amazing comfort and confidence that this quintet manages to work through a variety of different styles and sounds, covering a wide range of influences from Jazz and Progressive Rock to short spells of Black Metal madness. Each musician is given enough space to prove their unique technical skills and, as a consequence, songs like the impressive opener "The Lie" become a case study for every aspiring young musician.
The production is crystal clear, thus allowing each complicated musical theme to become more easily accessible and highly entertaining.
OK, so far everything that I've mentioned regarding this album is quite positive, so why did I end up giving this release four stars? Well, much as I enjoyed listening to every single composition of "Delusions", I cannot help but think that the majority of these themes sound terribly familiar to some of the most classic moments of Dream Theater and Opeth - moments, such as the elongated technical theme in "Mirage" or the melodic break in "Fallen From Grace", whose Opeth-esque vibe is evident even in Julie Kiss' choice of vocal melodies. Songs that I believe you should definitely listen to are "Inside The Hourglass" and "Asylum" - the former being a perfect example of how well this band combines melody and technicality in their music (great refrain) and the latter, proof of how attractive the more experimental side of their music can really be.
Looking back on the numerous praising reviews that I have read in the British music media with regards to this band, I realize that they have indeed been quite justified. If To-Mera is capable of creating such a mature and challenging album as "Delusions" after only three years since their inception, then God only knows what they will achieve in the future. What I think that they need to do now, having proved that they are a group of talented musicians, is to work on establishing a sound and style that is unique to them, rather than continuing to sound like the bands that they have been influenced by.
Something tells me that it will not be long before this happens, but in the mean time, if challenging Progressive music is what makes your world turn, then you really need to get your hands on this album.
****
Review by John Stefanis
---
| | |
| --- | --- |
| | Print this page in printer-friendly format |
| | Tell a friend about this page |