TOM JONES 24 Hours (2008)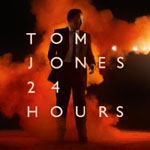 Who among us is unfamiliar with the depth and breadth of this national institution's catalogue? Sad to admit, but I would wager we could all belt out It's Not Unusual, (My, My, My) Delialah, The Green, Green Grass Of Home and What's New Pussycat (woaha, woawoah, whoa!) at the karaoke if we were fuelled with enough quality cask ale.
But don't knock it, the boy from the valleys is a now a Sir, and he's appealed to just about every generation since he burst on the scene in the mid Sixties. Even discerning rock fans were turned by his feisty rework of Prince's Kiss (with The Art Of Noise), and the superb ReLoad in 1999 – an album of duet covers with luminaries such as The Cardigans, The Pretenders, Stereophonics, Cerys Matthews and many more.
But his subsequent release Mr Jones in 2002 failed to scale the same heights and after a 6 year break, at the grand old age of 68, Tom's decided on one more roll of the studio dice. Recorded in LA, 24 Hours is something of a career retrospective, in so far as it covers a multitude of styles and for the first time Tom has contributed to the song writing making this – in places - a somewhat autobiographical set. And while his voice may not have quite as much power as in his heyday, it's got more than most of his contemporaries put together.
Produced, in the main, by Future Cut (Lilly Allen, Dizzee Rascal, Kate Nash) the album features contributions from Bono and The Edge (Sugar Daddy) and a cover of Springsteen's The Hitter, the bulk of the material has been written by Sir T with a clutch of up and coming songwriters and covering the gamut of sweet soul music, to bossa nova, to Latin, to ballads and to rock.
One particularly poignant track - The Road - is a homage to his long suffering wife. It is, indeed one of the album's highlights, and Tom seems to think the fact that he's always come back to her is proof of his undying love. Me, I think he's lucky that he's still got his nuts attached (although some of the notes he reaches are mighty impressive for a man of his advancing years …).
But as they say, 'life is a cabaret, old son' and 24 hours would be the ideal soundtrack to a Tom Jones special at a venue such as the London Palladium. There's something here for his fans of all ages, and while perhaps not a great album, at 68 the man is still cutting it with a great deal of credibility. And if 24 Hours should prove to be his swansong, he can close the book satisfied at a job well done with style and panache. Good on you Boyo.
***
Review by Pete Whalley
---
| | |
| --- | --- |
| | Print this page in printer-friendly format |
| | Tell a friend about this page |