Just witnessed your best live gig?.. send us a review!
TODD RUNDGREN
Manchester, Academy 2, 6 November 2008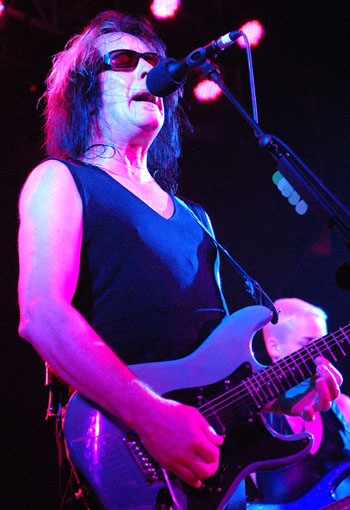 Todd Rundgren, photo: Lee Millward
It is a terrible indictment of the age that Todd's UK visit can seemingly go unnoticed by the likes of Jools Holland's Later programme, but little by little Rundgren is raising his profile this side of the pond.

The last UK outing for Todd Rundgren was a "package" tour - an unlikely cohabitation in 2005 with Joe Jackson and an American string quartet, It really didn't meet his fans' needs.

In a summer hiatus in 2006, when The New Cars tour stalled due to Elliot Easton's arm injury, Todd went out on the road with a guitar-based band: he hasn't looked back and the fans have been baying for more.

This was a real opportunity for UK fans to savour Rundgren's guitar talents and a chance to hear the excellent new album 'Arena' in its entirety.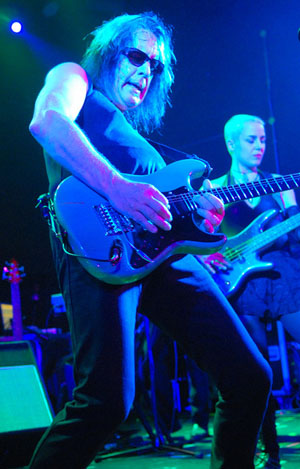 Todd Rundgren, photo: Lee Millward
It's as much about what Todd leaves out of a show as what he includes, but the opening salvo delivered a tranche of songs for the faithful, including 'Love In Action', 'Open My Eyes', 'I Saw The Light', and two less familiar covers 'Walls Came Down' (The Call) and 'Lunatic Fringe' (Red Rider). In his race to that damn 11 o'clock curfew, Todd managed two encores 'Couldn't I Just Tell You' and 'Just One Victory.'

This time his fellow cohorts Prairie Prince (drums), Jesse Gresse (guitar) and long-time collaborator Kasim Sulton (guitars, keyboards) would have been grateful they were not confined to a pod and religious stage outfits for the duration as on the Liars tour.

The diminutive Rachel Haden was an excellent choice for bass both visually and musically. Todd's target market is Dad Rock and there ain't a lot of females in the audience to be truthful, so it's good to see one on stage.
But, really, there's more energy on stage tonight than bands - including those fifteen-minute wonders that get aired on Later with Jools Holland - with band members half Todd Rundgren's age.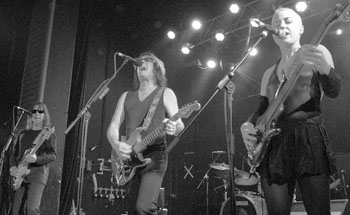 Jesse Gresse, Todd Rundgren, Rachel Haden photo: Lee Millward
It was interesting to hear which of the new tracks worked particularly well in the live context and perhaps surprising that one of the strongest (and my personal favourite), 'Afraid', was less successful - it seemed slightly slower, more lumbering, than on disc. On the other hand, 'Today' is great on disc but absolutely fantastic live. It's infectious rolling rhythm, punctuated by pre-programmed synth shapes, was a set highlight.
'Courage', too, came over well as on the album with a nod to Classic Todd. And, as throughout this gig, there was excellent vocal harmony support from Sulton, Gresse and Haden.
Todd Rundgren, photo: Lee Millward
Although the pace was pretty much relentless throughout, things slowed with 'Weakness' which highlighted Rundgren's soulful vocals and the slow-blues 'Bardo' which showcased some fluid guitar figures. The whole was rounded out with the superb 'Manup', propelled by Gresse's power chords and Haden's pumping basslines.

So nothing from the excellent 'Liars', and you could argue: Why did Todd include two covers and not a couple more original classics? Hopefully, next time round, we will finally have the luxury of a Greatest Hits package but, for the moment, the Arena tour does the business.
Review by David Randall
Photos by Lee Millward
Set-list
Love In Action
Walls
Black Maria
Open My Eyes
Lunatic Fringe
I Saw The Light
Mad
Afraid
Mercenary
Gun
Courage
Weakness
Strike
Pissin
Today
Bardo
Mountain Top
Panic
Manup

Couldn't I Just
Victory
---
---
| | |
| --- | --- |
| | Print this page in printer-friendly format |
| | Tell a friend about this page |