TODD GRUBBS Time, Space And The Electric
Grubbwork LS089365 (2008)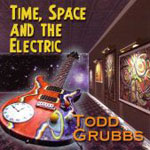 'Time, Space And The Electric' is the kind of album that might provoke different reactions from real enthusiasm to a weary sigh at yet another note shredder looking for a song. No such worries need afflict this truly excellent album which has an undeniable inner core and a compositional integrity that elevates it above the ranks of the technically brilliant note shredder.
For Todd Grubbs' superb CD offers both rock and prog rock fans something slightly different from the norm. Where guitar instrumentalists too often rely solely on their ability to simply dazzle, Todd Grubbs uncovers an equilibrium born of inspired playing and exploring a plethora of sounds and moods over 11 songs full of stylistic diversity.
In fact 'Time, Space And the Electric' almost seems to be an attempt to create a musical parallel with David Hervey's startling accompanying impressionistic art work. Where CD booklets are too often full of hard to read lyrics and impenetrable thank you's, 'Time' offers 12 beautifully conceived works of art with each song. And what an album this is.
All too often instrumentalists spend nearly all their time perfecting their playing styles without due recourse to their compositional craft, let alone any emotional feel. Grubbs may not be the strongest songwriter in the world but he combines a sense of humour with more than enough light and shade to make this a memorable outing.
Todd explores the full parameters of his big toned tone note flurries, outrageous string bends, wild whammy bar inflections and above all some sterling band interplay. Each song is a little cameo in its own right and yet the album has an overall coherence born of some magnificent musicianship and a willingness to let each composition breath.
For example, the Japanese sounding 'Edith' is cleverly juxtaposed with the choral presence and sampled voices of 'The Electric Life', creating different contexts for Grubbs guitar work. At no point does any one style outstay its welcome and such is the imaginative playing here that Grubbs avoids the pitfalls of recycled licks and redundant shredding.
Perhaps the most notable aspect of this CD is Todd's ability to evoke the nuances of some of his song titles with his guitar playing, most notably on the heavy arrangement of 'The Argument'. He further explores a cleverly contrasting dynamic on 'Dreaming Aboard An Alien Aircraft', on which a sparse retro and clean sounding Satriani style guitar line morphs into a double tacked (possibly multi tracked) melodic solo in sharp contrast to the sledgehammer backing track.
On the splendidly titled 'The Fearless Future' he dips into a keyboard led Prog Rock feel with lashings of melodic flighty runs, while the former Zappa and Turtles member Don Preston adds a beautifully judged Moog synthesizer solo, exploring some unique sounds on 'You Are Here' over Patrick Bettison's accompanying fragmented bass lines. Only a slightly subsequent cumbersome guitar drop-in clouds an otherwise memorable track.
And as if to show that this album isn't just a guitar mangler with casual hired hands, Todd is joined by fusion guitarist Chris Poland and Porcupine Tree's John Wesley on the funky arrangement of 'A View From Inner Space'. The guitar triumvirate coalesce seamlessly on a number which makes the most of a mid number compressed rum roll to build the tension before slipping back into the original groove and more inspired playing.
In an age of limitless self produced releases 'Time, Space And the Electric' is a breath of fresh air being consistently excellent throughout and comes unreservedly recommended for all guitar lovers and rock fans alike.
*****
Review by Pete Feenstra

---
| | |
| --- | --- |
| | Print this page in printer-friendly format |
| | Tell a friend about this page |