THEORACY Mirror Of Souls Ulterium Records (2008)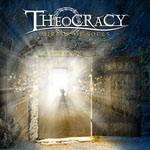 A solid start to this album, mixing power / melodic speed metal, with at times speeded up trad metal and a nod at prog metal. Opener 'A Tower Of Ashes' is a strong track, but 'On Eagles Wings' sounds initially like a guitar-pop song played by an extreme metal band, but it does improve, especially with the vocal harmonies.
'Laying The Demon To Rest' is just a tad long at 9'30', mixing extreme metal with slower prog moments. Some of these sound disjointed, and just pace variation is not always enough to keep interest over such a long song.
'Bethlehem' opens acoustically and mixes hard and soft in almost grunge style. Some of the big vocal parts and big sounds are good, but again disjointed in places.
The next few tracks are an improvement, more consistent, a trad sound shining through the metal. Sadly, though, the closing track 'Mirror Of Souls', is just too long at over 22 minutes. Brave to try, even braver to actually commit to record. Some good ideas, some great melodies, some nice variation, but if you actually squeezed that into 10 minutes you'd something approaching excellent.
***
Review by Joe Geesin
www.joegeesin.com
---
| | |
| --- | --- |
| | Print this page in printer-friendly format |
| | Tell a friend about this page |