THE ZOMBIES The Zombies And Beyond
Universal (2008)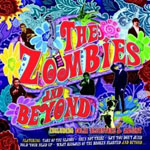 These are good times for Colin Blunstone and Rod Argent of The Zombies. For having reconvened their musical relationship back in 2002 the duo have inched their way back towards using the Zombies moniker and in doing so have ushered in a reappraisal of one of the great bands of the late 60's. That's not to suggest of course that the whole project is simply retrospective.
For while this 20 track compilation charts the highlights of both The Zombies and Blunstone and Argent's respective solo careers - including two tracks from 2006's 'As Far As I Can See' - disappointingly there is no room for either of Rod's far more impressive 'Sanctuary' or 'Mystified' from the 'Out of the Shadows' comeback album.
That said most people purchasing this CD will probably either do so as a result of the current huge advertising campaign or by attending one of the band's forthcoming 30 tour dates in conjunction with The Yardbirds. And that being the case the nine Zombies tracks will once again provide the meat in the sandwich with the recently re-issued 'Time of the Season' single sounding just as startlingly fresh and unique as 'She's Not There' remains compelling with its potent use of dynamics.
And while the harmonies of 'I Love You' might sound a little dated, the frankly more retro 'Indication' works better if only because of its undiluted garage band feel.
For the rest Colin Blunstone's voice remains magnificent, making the most of the core voice and piano arrangements that have served him so well over the years. This is particularly so on both 'This Will Be Our Year' and the underrated Alan Parson/Eric Woolfson song 'Olde & Wise' while Rod's newer 'I Want To Fly' impressively updates the same elements.
For the rest as you'd expect there is the inclusion of Colin's startling vocal prowess on both Russ Ballard's 'I Don't Believe in Miracles', and Denny Laine's 'Say You Don't Mind' as well as his own beautifully evocative 'Caroline Goodbye'. The latter inclusion makes up for its surprising omission on the 'Live at the Bloomsbury Theatre CD/DVD.
The running order of the rest of the album mirrors the change from 60's psychedelic tinged optimism to the more weighty proggy rock days of the keyboard led Argent, with the insistent organ and keyboard riffs of 'Hold Your Head Up' being the best of Rod's 70's output. The Blunstone and Dave Stewart (Hatfield & The North) 80's update of 'What Becomes of the Broken Hearted' is worthy rather than inspired, and excellent as much of this compilation is, it ultimately serves as a reminder of the original creative source of The Zombies.
****
Review by Pete Feenstra
---
| | |
| --- | --- |
| | Print this page in printer-friendly format |
| | Tell a friend about this page |