THE TUBES Goin' Down Cherry Red (2008)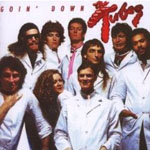 This collection demonstrates that there was much more to The Tubes than Quay Lewd and the ubiquitous Johnny Bugger - both personas of Fee Waybill, the band's frontman and co-writer. That Waybill forged a later career penning songs with AOR whiz Richard Marx will not come as a surprise.
Here all in their glory, the cream of the A&M years when it could be said that the Tubes had attitude, subsequently neutered when they switched to Capitol.
This 2-CD set (originally released back in 1997) might be all that you need especially as it includes the whole of the classic 'Remote Control' album, previously unavailable on CD in the UK in its own right.
The first CD includes the key material that the band brought to the UK, when they played successive nights at the Hammersmith Odeon in 1977 and where subsequently Waybill fell off stage and broke his leg. (Those halcyon days are celebrated with six tracks on CD2).
'Up From The Deep', from the band's debut self-titled CD, demonstrates the band's musicality, whilst 'Don't Touch Me There' (with Re-Styles), 'Smoke (la Vie En Fumer) and of course the anthem 'White Punks On Dope' were all highlights of their classic stage set.
'Remote Control' was another concept, built around the cult of the TV personality and the excess ('I Want It All Now') and spawned some excellent radio friendly singles -'Prime Time' and 'Love's A Mystery (I Don't Understand)'.
The Tubes combined humour, great stage shows and fantastic musicianship, and fused elements of Zappa's satire and Beefheart's surrealism. Strangely there doesn't appear to be a definitive live account of the band on DVD but - for the moment - enjoy a golden era when labels had a budget, heels were high and life was, well, what do you want from it? Part 2, the Capitol era, nothing less.
****
Review by David Randall
---
| | |
| --- | --- |
| | Print this page in printer-friendly format |
| | Tell a friend about this page |