THE TANGENT Not As Good As The Book (2-CD) Inside Out/SPV (2008)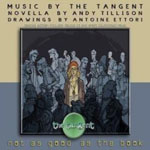 There's not more a progressive CD than a book; I jest not, for one of the four editions of this album comes with just that, the standard 2CD having an extract in the booklet.
But besides that, this Andy Tillison-led band have produced a great fourth album, if a little lengthy, even by prog standards.
Take a very 70s sound that is very future looking, but all very real subjects that you can relate too (ie no orcs or hobbits).
Guitarist Jakko M Jakszyk produces some great lines, and mixes with the keyboards, flute and acoustic instruments well.
Strong elements of Rush and Jethro Tull, at their heaviest. Symphonic Jazz for the 21st Century.
While the tracks on disc 1 range from 4 to 11 minutes, disc 2 has just 2 tracks, both running at over 20 minutes each. A little meandering, drifting to the point of being background music, but good all the same. Some strong moments, with the flute and sax both nodding at King Crimson.
A strong set that prog fans will enjoy, even if you can't swallow it all in one bite.
****
Review by Joe Geesin
---
| | |
| --- | --- |
| | Print this page in printer-friendly format |
| | Tell a friend about this page |