THE SWORD Gods Of The Earth Kemado Records (2008)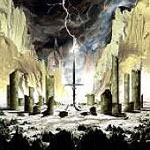 Now that they are armed with two beastly albums, The Sword have quickly become a force to be reckoned with. They're as powerful and arse-kicking as Orange Goblin and through their love of myths and fantasy obvious comparisons can be made to the legendary Manowar.
Much of 'Gods Of The Earth' is instrumental; the Texas quartet demonstrates their skills as riff-meisters with gusto and incredible confidence. One qualm is that by the end of the 9-track album it's hard to tell exactly how many songs have been played without looking at the track listing, the point being that the songs are perhaps too similar to one another. Even some of the heavier bands have flavour.
The Sword play gritty working class metal like early Black Sabbath and the shifts in tempo recalls Sabbath's underrated 'Sabotage' album. And like that other great metal beast Metallica, The Sword play deafening yet innovative metal. Other influences that can be heard in the album include Iron Maiden and Motorhead.
Some of the stand out songs include the thunderous 'The Black River' and the mighty 'Under The Boughs.'
Put bluntly: 'Gods Of The Earth' is a strong, albeit early, contender for one of the best metal albums of the year. If they continue to churn out albums of this strength their rivals must surrender and throw down their weapons. The Sword will be the last band standing.
****
Review by Neil Daniels
---
| | |
| --- | --- |
| | Print this page in printer-friendly format |
| | Tell a friend about this page |