THE SMITHS The Sound Of The Smiths (2CD)
Rhino/Warner Bros (2008)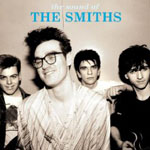 The Smiths exemplified the height of indie music in the mid 80s; the chart success, the jangly guitar, the tuneless drone with a subtle tune bubbling under, all much like The Stone Roses and to an extent, in the 90s, Oasis. But The Smiths had the extra dimension of well written songs with a near permanent suicidally miserable take on the lyrics.
Yet despite the success the band split in 1987, shortly before the release of their fourth album. Their career is nicely rounded up here, on either 1CD or 2CD sets.
Disc 1 is a roundup of singles (in the case of 'Barbarism Begins At Home' and 'The Headmaster Ritual', European singles too), and includes the early Rough Trade numbers too. Many will recognise the hits of 'The Boy With The Thorn In His Side', 'I Started Something I couldnít Finish', 'Girlfriend In A Coma' and 'Heaven Knows Iím Miserable Now', the drone of 'How Soon Is Now', and the skiffle of 'Nowhere Fast'. Johnny Marrís guitar If you like guitar led 80s indie, The Smiths had it all, and the song writing too. But most would agree they were just too jangly and, well, just plain miserable. Musically good, but not in the slightest uplifting no matter what angle you take on it. Youíve probably heard this one, but how many Smiths fans does it take to change a lightbulb? None. They all sit in the dark and moan about it. A good singles collection and introduction though.
Disc 2, which really was too much for me Iíll admit but fans will love, is a collection of rarities and single/12' b-sides, including tracks you wonít have heard, and demo and live versions.
A fair exploration and representation of this supposedly legendary band, but it is hard work for many.
***½
Review by Joe Geesin
www.joegeesin.com
---
| | |
| --- | --- |
| | Print this page in printer-friendly format |
| | Tell a friend about this page |