THE MISSION Carved In Stone/Grains Of Sand Mercury/Universal (2008)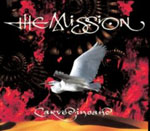 Another in the fine Mission re-release series with one of their most popular albums 'Carved In Sand' getting a re-release with the added bonus of the 'Grains Of Sand' album added (this was originally released as a separate album as it contained songs left off 'Carved In Sand' but deemed worthy of releasing).
'Carved In Sand' sees the Mission in their full pomp and splendour - the delicate 'Butterfly On A Wheel' or the hard hitting - both musically and lyrically - 'Amelia'. The band are classed as goth rock but these songs can be enjoyed by any fan of classic rock. Bonus songs include an Andy Partridge (XTC) mix of 'Hands Across The Ocean', demos of 'Sea Of Love' and 'Divided We Fall'. There is even a countrified version of 'Butterfly On A Wheel'.
'Grains Of Sand' to quote my wife and big Mission fan is 'not one of their best'. 'Kingdom Come' and 'Divided We Fall' are classic Mission - the distinct vocals of Wayne Hussey coupled with their distinctive guitar sound. But 'Mercenary' and 'Bird Of Passage' are average at best.
Great bonus on here though in the shape of the band's glam rock alter ego, the Metal Gurus! These are all live tracks recorded back in 1989 when supporting the Wonderstuff and many have not been released before. If you ever wondered what 'Merry Xmas Everybody' or the Quo's 'Caroline' would sound like Mission-fied then wonder no longer. Cracking version of the Sweet's 'Ballroom Blitz'!
Worth getting for the live Metal Guru's covers alone! One of the band's best albums although 'Grains Of Sand' is an acquired taste.
****
Review by Jason Ritchie
---
| | |
| --- | --- |
| | Print this page in printer-friendly format |
| | Tell a friend about this page |
***** Out of this world | **** Pretty damn fine |
*** OK, approach with caution unless you are a fan |
** Instant bargain bin fodder | * Ugly. Just ugly
get ready to rock is a division of hotdigitsnewmedia group