THE FEELING Join With Us (2008)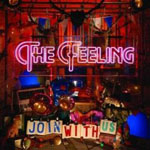 Album number two from the Feeling and it carries on from where their debut album left off being chock full of catchy pop rock moments. You do need to play this album a few more times though for some songs as it is not as 'instant' as their debut release.
'I Thought I Was Over' starts the album off in fine style and juts shows how good the band are at penning catchy tunes. They roll out the rock on 'Turn It Up' – well as heavy as this band ever get! 'I Did It For Everyone' is simply superb – big chorus, harmony vocals – Cheap Trick for the modern generation.
'Without You' and 'Join With Us' again reach the pop rock heights whilst 'Won't Go Away' with its call back chorus will have you singing long after the music has stopped. But there are two big let downs on here…the syrupy 'Connor' and the frankly awful 'The Greatest Show On Earth / We Can Dance' which outstays its welcome. They excel at four minute pop rock gems and not overblown pomp like this track.
Many 'serious' reviewers knock the band whilst raving over some obscure indie dance crossover that two men and dog will like but they miss the point. The Feeling are about feel good songs and they have tapped into not only the youth audience but older music fans like myself who always like a good pop rock tune. If you enjoy older bands like ELO, Supertramp, Cheap Trick or the Raspberries you will love this band. Go see them live as well as they are excellent (plus cover Queen's 'Fat Bottomed Girls').
****
Review by Jason Ritchie
---
| | |
| --- | --- |
| | Print this page in printer-friendly format |
| | Tell a friend about this page |
***** Out of this world | **** Pretty damn fine |
*** OK, approach with caution unless you are a fan |
** Instant bargain bin fodder | * Ugly. Just ugly
get ready to rock is a division of hotdigitsnewmedia group