THE DAMNED So, Who's Paranoid The English Channel (2008)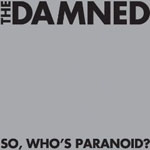 The Damned return with their first album since 2001's 'Grave Disorder' with original membersí vocalist Dave Vanian and guitarist Captain Sensible in the line-up. 'A Nation Fit For Heroes' starts the album off in fine style and is the only song on the album not written by the band. Sounds very similar to the Stranglers especially the jaunty organ backing plus features a very tasty guitar solo.
The band as ever switches between short, sharp punk pop and more mellower, melodic numbers such as the piano led 'Since I Met You'. The latter shows there is more to the band than punk although conversely a song like this may put off their more punk loving fans.
'A Danger To Yourself' and 'Little Miss Disaster', released as a single a couple of years ago, are instantly catchy pop punk numbers and 'Perfect Sunday' has a great lyric, laced with black humour and I would imagine penned by Captain Sensible. A couple of songs don't quiet hot the spot like 'Maid For Pleasure'. The band even goes all psychedelic prog rock on the fourteen minute epic 'Dark Asteroid'. Very reminiscent of Syd Barrett era Pink Floyd with spacey keyboards and a suitable 'out there' vocal - not sure who but it is not Dave Vanian.
The Damned have come a long way from their punk rock roots, for a start they play decent guitar solos now! A strong set of tunes with plenty of musical variety and deserves a wider audience outside of the Damned fanbase.
****
Review by Jason Ritchie
---
| | |
| --- | --- |
| | Print this page in printer-friendly format |
| | Tell a friend about this page |